Disclaimer: CountryClubMag.com is an independent resource and is not associated with any of the clubs on this website. Club initiation and membership cost information are estimates only and should not be relied upon for making club membership decisions.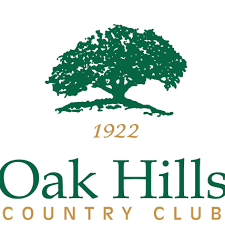 Oak Hills Country Club is an oasis of sophistication located at the core of San Antonio. With its timeless charm and unwavering commitment to excellence, this club has become a symbol of refined living and privileged experiences.
From its meticulously designed golf course to its wide range of amenities, Oak Hills offers a unique blend of luxury and community.
Join us as we explore the captivating story of Oak Hills Country Club and uncover the remarkable experiences it has to offer.
History
Situated on a sprawling 170-acre landscape adorned with magnificent oak trees and undulating hills in the heart of San Antonio's Southwest Texas Medical Center, lies the distinguished Oak Hills Country Club.
Renowned as one of the country's premier country clubs, this establishment boasts a remarkable legacy.
It was founded in 1922 and was originally established under the name "Alamo Country Club." This prestigious Country Club was envisioned by the esteemed architect A.W. Tillinghast.
Tillinghast's legacy includes crafting iconic courses such as Winged Foot, Baltusrol, and San Francisco Golf Club. The manifestation of his vision for a captivating and demanding golf course is now relished by an exclusive group of players.
Tillinghast's signature elements shine through with the fairways lined by trees, greens strategically guarded by bunkers, and gracefully contoured putting greens.
For golf enthusiasts seeking a harmonious blend of challenge and enjoyment, the Oak Hills course presents an irresistible allure. As a testament to its prominence, Oak Hills Country Club stands as an esteemed member-owned private institution, garnering profound respect on a national scale.
The club's history is further accentuated by its role as the host of 34 PGA and USGA Tour events, boasting a roster of victors that comprises an array of golf legends.
Following a period of dormancy during the war, the club reemerged in 1946 with the appellation Oak Hills Country Club.
Golfers of varying skill levels are not only drawn to Oak Hills for its storied past and esteemed repute but also for the consistent pace of play that enhances the overall golfing experience.
A single round on the Oak Hills course is often all it takes to forge an enduring affection. Let's dive into the details of the golf course and what you can find in the Club!
Membership Details
Oak Hills Country Club has the following membership costs:
Initiation Fee: The initiation fee for joining Oak Hills Country Club in San Antonio falls roughly within the range of $10,001 to $25,000. This fee serves as an initial investment upon becoming a member.
Annual Dues: Members of Oak Hills Country Club can expect annual dues ranging from an estimated amount of $5,001 to $10,000. These dues contribute to the ongoing maintenance, operation, and improvement of the club's facilities and services.
Types of Memberships Available
Full Golf Membership: Oak Hills Country Club offers a Full Golf Membership option, which provides access to the club's premier 18-hole golf course and all associated golfing amenities. Members with this type of membership enjoy unrestricted play and privileges on the golf course.
Family Membership: The Family Membership is designed to cater to families of all sizes. This comprehensive membership encompasses spouses and dependent children, granting them access to the club's diverse range of facilities, including the golf course, tennis courts, swimming pool, fitness center, dining areas, and more.
Single Membership: The Single Membership option is tailored for individuals seeking exclusive access to Oak Hills Country Club's offerings. With this membership, individuals can partake in golf, tennis, fitness facilities, dining, and other amenities provided by the club.
Oak Hills Country Club in San Antonio offers a selection of membership types to suit various preferences and needs.
Whether you're an avid golfer, a family seeking recreational activities, or an individual looking to enjoy the club's amenities, there's a membership option that aligns with your lifestyle.
Please note that membership availability and details may be subject to change, and it's recommended to directly contact the club for the most up-to-date information regarding costs and membership offerings.
Amenities
Oak Hills Country Club embraces a welcoming family atmosphere. Families of all sizes and ages can revel in our exceptional 18-hole golf course, a sprawling 10-court tennis facility, a Junior Olympic-sized swimming pool, a co-ed fitness center, refined dining venues, capacious banquet halls, private conference chambers, comprehensive locker rooms, and well-appointed pro shops.
Our array of offerings encompasses:
Junior Olympic-Sized Swimming Pool
Multi-Sports Court
Co-Ed Fitness Center
Summer Youth Camps
Golf and Tennis Instruction
18-Hole Golf Course
10-Court Tennis Facility (featuring eight hard and two clay surfaces)
Pub '22 – Bar and Grill
Oak Grill – Casual yet Upscale Family Dining
Wine Cellar with Personal Wine Lockers
Private Conference and Event Spaces
Golf Shop
Tennis Shop
Men's and Women's Locker Rooms
Golf Amenities
Practice Range: Oak Hills Country Club offers a state-of-the-art practice range, providing members with the opportunity to fine-tune their golf skills. The practice range includes designated areas for driving, iron play, chipping, and putting, allowing golfers to work on all aspects of their game.
Expert Instruction: Members of all skill levels can benefit from the expertise of PGA Professionals on staff at Oak Hills. These experienced instructors offer personalized lessons and guidance, helping golfers improve their technique, consistency, and overall performance on the course.
Well-Equipped Golf Shop: The on-site Golf Shop at Oak Hills Country Club is a one-stop destination for golfing gear and apparel. From golf clubs, balls, and accessories to fashionable attire suitable for the course, the Golf Shop provides a comprehensive selection to meet golfers' needs.
Special Tournaments and Events
Men's Invitational: An exclusive event that brings together male golfers for competitive play and camaraderie. The Men's Invitational offers an opportunity to showcase skills and engage in friendly competition.
Women's Invitational: Similar to the Men's Invitational, this event caters to female golfers, fostering a sense of community and friendly competition among women.
Couples Events: Oak Hills organizes special events that allow couples to share the golfing experience. These events often blend a sense of competition with leisure, emphasizing quality time together.
Snacks at the Turn: To keep golfers energized and refreshed during their rounds, Oak Hills provides snacks at the turn. These convenient offerings ensure that players can refuel and stay focused on their game.
Tennis
For adults, couples of all skill levels and ages find joy in tennis and golf.
The sight of spouses enjoying quality time while partaking in the superb tennis and golf facilities is a common occurrence at the club.
Family-Centric Activities
Throughout the calendar, Oak Hills orchestrates a multitude of family-centric activities. The Labor Day and Fourth of July pool gatherings offer families an opportunity to unwind and relish each other's company in a laid-back ambiance.
The annual camping event on the golf course is another highlight, bringing the outdoors to life for numerous families.
Dining
When it comes to dining, Oak Hills Country Club boasts superlative options. Chef Upton Dennie leads the charge in delivering an exceptional dining experience at the Club, every single day and evening.
Bring your family and choose between the relaxed comfort of The Oak Grille or, for the adults, the Pub 1922.
Whether it's business luncheons, wine dinners, or intimate family gatherings, the Wine Cellar sets the perfect stage. The cuisine is extraordinary and always freshly prepared to your preferences.
Summer Day Camps
Oak Hills Country Club offers summer day camps encompassing golf, tennis, basketball, and a comprehensive all-sports camp. Activities also include swimming, participation in the swim team, and games on the sports court.
The Club's professional staff eagerly anticipates engaging with their junior members in this program.
Dress Code Guidelines
Proper golf attire should be donned while on the course. Here's the details of what you should wear and what to avoid:
Men's Attire
Collared shirts like polo or modern-style golf shirts with turtleneck-style collars are standard.
Long pants made of cotton or polyester blend, dress shorts with pleated or flat front, or traditional golf pants are recommended.
Jeans are allowed at some courses, but others prefer golf pants or cargo shorts.
Golf shoes with soft spikes (hard rubber or plastic) for stability and traction are required.
Sneakers or running shoes might be allowed on some courses, but not always.
Women's Attire
Tops should adhere to a traditional sense of modesty, with no bathing suit tops or tube tops.
Long trousers, capris, dress shorts, or golf skirts with pleats or V-notch for motion during the swing are appropriate.
Golf shoes with soft spikes, ankle-length socks, or traditional tube socks are suitable.
Baseball-style hats, visors, straw hats, or Ben Hogan caps are popular headgear choices.
Cowboy hats, dress fedora-style hats, beanie caps, and gag hats are generally not recommended.
Remember, appropriate golf attire not only respects tradition but also enhances your comfort and performance on the course.
Final Thoughts
As we conclude our journey through the history, membership costs, and amenities of Oak Hills Country Club, we're invited to immerse ourselves in a world where tradition and modernity harmonize seamlessly.
This haven of elegance and exclusivity offers more than just a membership; it offers a vibrant community, a legacy of excellence, and a retreat for shared moments.
From its lush golf course to its diverse offerings, Oak Hills beckons those seeking a refined escape, extending an invitation to join its story, enhance your lifestyle, and create lasting memories in a place where luxury and leisure unite.