Disclaimer: CountryClubMag.com is an independent resource and is not associated with any of the clubs on this website. Club initiation and membership cost information are estimates only and should not be relied upon for making club membership decisions.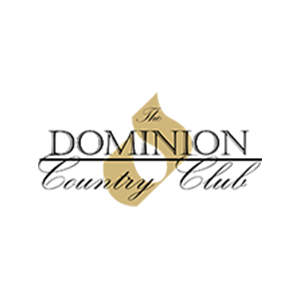 Nestled in the serene Texas Hill Country, The Dominion Country Club is a place that beautifully combines luxury with leisure.
With its carefully designed golf courses and upscale amenities, it offers a touch of opulence in a relaxed setting.
Only a short drive from downtown San Antonio, The Dominion provides a getaway where luxury and relaxation come together seamlessly.
In this article, we'll discuss its rich history, membership costs, and amenities the Club offers!
History
Established in 1984, The Dominion Country Club has marked its place as an exclusive Private Club, situated within the ranks of America's top ten gated communities.
With only a 20-minute drive from San Antonio, The Dominion offers a blend of tranquility and convenience. Here, a range of top-tier facilities, service, and amenities combine to provide a comprehensive experience.
A highlight of this commitment is the majestic 54,000 square foot clubhouse. This structure stands as a testament to The Dominion's unwavering aspiration to establish an elite private country club that can easily rival any in the Southwest.
Delve into The Dominion's history, and you'll unearth a narrative built on steadfast dedication, the pursuit of distinction, and an unrelenting desire to create an atmosphere that embodies excellence.
Amenities
Inside the Clubhouse
Once you step inside The Dominion's main clubhouse, you'll realize how much they care about offering top-notch experiences.
They've taken care of every detail, from the special lockers made of oak in the locker rooms to the impressive entrance. The clubhouse has a classic style that brings an old-world charm. There are open spaces, tall stone columns, and large windows that frame stunning views of the nearby Hill Country.
Dining
The Dominion Country Club takes dining seriously. They've created seven distinct dining areas, so you have plenty of options, whether you're in the mood for something fancy or a local favorite.
Their focus is on making the food not just good, but really enjoyable, and the staff are experts at providing great service. They've also got a casual dining spot where you can grab good food and drinks in a relaxed atmosphere.
If you're into wines, they've got a special room with an impressive collection. Plus, if you want a more private setting for meals, there are special rooms with fireplaces that are perfect for business meetings or simply catching up with friends.
And if you're looking to unwind after a round of golf or engage in some card games, they've got a dedicated restaurant for that.
Embracing the Outdoors
The Dominion knows that dining isn't just about sitting indoors. They've created spaces for you to enjoy your meals outdoors, allowing you to savor the pleasant weather.
Whether you're indoors or outdoors, you can enjoy light meals and local favorites. And for those looking to wind down after a game of golf or engage in some friendly card games, they've set up a special place for that too.
They've even thought of creating a separate spot with a piano and comfortable seating, so you can take a break and enjoy a laid-back atmosphere.
Locker Rooms
Women's Locker Room – The Dominion's women's locker room exudes warmth and hospitality. It offers a range of amenities, including a Jacuzzi, steam room, and dry sauna, creating a welcoming space for relaxation and rejuvenation.
Men's Locker Room – The Dominion's men's locker room is designed with grandeur and substance. It also comes equipped with a Jacuzzi, steam room, and dry sauna, and offers a space of respite and revitalization, catering to the needs of every member.
Membership at Dominion
Approximate Membership costs
Initiation Fees: The journey to becoming a member at The Dominion Country Club is marked by an initiation fee ranging between an estimated amount of $25,001 and $50,000.
This fee encapsulates your entry into a world of elite experiences and top-tier privileges.
Annual Dues: To maintain your membership at The Dominion, an annual due of roughly $5,001 to $10,000 is expected. This fee ensures access to an array of impeccable facilities, services, and amenities that define the club's commitment to excellence.
Membership Categories
Country Club
Established in 1984, The Dominion Country Club is an exclusive Private Club nestled within one of America's top ten gated communities. Just 20 minutes from San Antonio, it offers exceptional facilities, service, and amenities.
Full Golf Membership
With this membership, golf is just the beginning. Play as much as you want and gain access to practice areas. Plus, you're not just limited to golf – enjoy tennis, fitness, swimming, social gatherings, and dining experiences that round out a fulfilling club lifestyle.
Junior Executive Golf Membership
For members aged 37 & under, this membership offers a golfing paradise.
Unlimited golf, practice spaces, and the added bonuses of tennis, fitness, swimming, social events, dining, and the special sister club privileges, making it an all-inclusive package designed for young enthusiasts.
Non-Resident Golf Membership
This membership is for those who live a bit farther away, over 50 miles from the club. But distance won't hold you back from the joy of golf. You get full golf access throughout the year, making sure you can still enjoy the game you love.
Tennis Membership
If tennis is your game, this membership serves up a whole lot more. Alongside your tennis passion, dive into fitness, swimming, social events, and dining privileges, creating a versatile club experience that goes beyond the court.
Social Membership
If you're looking for a mix of relaxation and interaction, the Social Membership has you covered.
It offers fitness, swimming, social events, and dining options, providing a comfortable environment where you can connect and unwind in equal measure.
Special Events
Weddings
At The Dominion Country Club, years of anticipation culminate in a single moment of celebration.
With an elegant backdrop for every season, our outdoor venue features majestic live oaks, lush green hills, a serene lake, and a charming fountain.
Guests enjoy unobstructed views of the ceremony from tiers of white-cushioned seats.
Inside, our sitting room boasts floor-to-ceiling windows, Cantera-stone columns encircling the dance floor, and a magnificent chandelier under a Michelangelo-inspired dome.
The intimate wine room continues the Renaissance charm, offering an exquisite setting. For larger celebrations, a 2000-square-foot dance floor, a hand-carved bar, and a spacious atrium are ready to host.
We'll customize a package that fits your budget, exceeds expectations, and ensures lasting memories.
Extraordinary Private Events
The Dominion Country Club has emerged as a coveted venue, boasting a revamped clubhouse with state-of-the-art spaces, furnishings, and décor.
Explore the Club's immersive experience for an in-depth preview of where your next event comes to life.
Golf Tournaments
Transport your guests into the world of The Dominion Country Club with immersive interactions that traverse the golf course's lush greens.
Its world-class golf course, thoughtfully designed by Bill Johnston, a former Texas Open champion and PGA professional, harmonizes with the beauty of the Hill Country while offering an exhilarating challenge.
Johnston aimed to enhance nature and provide a rewarding experience for players of all skill levels
Dress Code
At Dominion Country Club, the emphasis is on comfort and inclusivity. While there are no strict dress code restrictions, the suggestion is to opt for standard golf attire that aligns with the spirit of the game.
Appropriate Golf Attire
Pants: For men, long pants crafted from cotton or a polyester blend, as well as dress shorts with a pleated or flat front, are fitting choices. Women can opt for long trousers, capris, dress shorts, or golf skirts with a pleat or V-notch for ease of movement.
Shoes: Golf shoes, equipped with spikes for stability, are essential. Soft spikes made of rubber or plastic are usually required, and sneakers, sandals, street shoes, and boots might not be suitable.
Socks: Ankle-length socks or traditional tube socks complement golf shoes. It's advisable to choose socks that harmonize with your overall attire.
Hats: While Dominion Country Club doesn't enforce strict headgear rules, baseball-style hats or visors are popular choices for both men and women. These serve to shield from the sun, maintaining comfort during your game.