Disclaimer: CountryClubMag.com is an independent resource and is not associated with any of the clubs on this website. Club initiation and membership cost information are estimates only and should not be relied upon for making club membership decisions.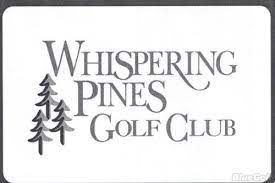 Welcome to the tranquil oasis of Whispering Pines Golf Club, nestled in the heart of Trinity, Texas. Surrounded by the beauty of towering pines and the serenity of nature, this premier golfing destination promises an unforgettable experience for both avid golfers and those seeking relaxation. With its meticulously designed course, exceptional facilities, and a reputation that speaks volumes, Whispering Pines Golf Club stands as a haven for individuals who appreciate the perfect fusion of sport, leisure, and the great outdoors.
Whether you're striving for a challenging round of golf or simply looking to escape the bustle of everyday life, Whispering Pines invites you to immerse yourself in a world where golf and nature harmoniously unite.
Whispering Pines Golf Club History and Founding
Whispering Pines Golf Club, located in Trinity, Texas, has a rich history steeped in a passion for the game of golf and a deep appreciation for nature's beauty. The club was founded by Corby Robertson Jr., a successful entrepreneur and devoted golfer, who envisioned creating a world-class golfing sanctuary that would provide an unparalleled experience for golf enthusiasts.
The visionary behind the layout of the Whispering Pines course is none other than renowned golf course architect Chet Williams. Williams, known for his exceptional skill in designing courses that seamlessly integrate with their natural surroundings, was selected to bring Corby Robertson Jr.'s vision to life.
With meticulous attention to detail and a commitment to preserving the native landscape, Chet Williams crafted a masterpiece that showcases the undulating terrain, mature trees, and scenic water features of the Trinity area. The result is a challenging yet harmonious 18-hole championship course that offers players both a thrilling game and a serene communion with nature.
Whispering Pines Golf Club opened its doors to members in 2000, quickly gaining recognition as one of the finest golfing destinations in the country. The course has since hosted numerous prestigious events, including national championships and professional tournaments, further solidifying its reputation for excellence.
Today, Whispering Pines Golf Club stands not only as a tribute to the founders' love for golf but also as a testament to their commitment to environmental stewardship. The club's dedication to preserving and enhancing the natural beauty of the landscape has earned it accolades for its sustainability efforts, making it a model for responsible golf course management.
As golfers walk the meticulously designed fairways and navigate the challenging greens of Whispering Pines, they are not only engaging in the sport they love but also participating in a legacy of passion, innovation, and respect for the environment that has defined the club since its inception.
Famous Golf Tournament held at Whispering Pines Golf Club
One of the most notable golf tournaments held at Whispering Pines Golf Club is the Spirit International Amateur Golf Championship. The Spirit International, often referred to simply as "The Spirit," is a unique event that brings together top amateur golfers from around the world to compete in a team format. The tournament showcases both men's and women's teams, representing their respective countries.
What sets The Spirit International apart is its emphasis on camaraderie and cultural exchange. Each team consists of four players – two men and two women – who compete in four different formats: best ball, alternate shot, best ball (combined) team, and individual stroke play. The tournament provides a platform for amateurs to showcase their skills and foster international goodwill through the shared love of golf.
Whispering Pines Golf Club has hosted The Spirit International since its inception in 2001, making it the permanent home of the event. The championship course's challenging layout, pristine conditions, and stunning natural setting provide an ideal backdrop for this prestigious tournament. Over the years, The Spirit has attracted emerging golf talents who have gone on to become successful professional golfers, adding to the event's significance in the golfing world.
The Spirit International not only highlights the competitive spirit of amateur golfers but also celebrates the universal appeal of the sport, bringing people together from various cultures and backgrounds. As a result, Whispering Pines Golf Club has become synonymous with this unique tournament that promotes sportsmanship, friendship, and the pursuit of excellence on the golf course.
Whispering Pines Golf Club Membership Costs and Dues
The official membership information for Whispering Pines Golf Club is not publicly available. However, there are some rumored and estimated costs and dues that have been shared online.
Individual Membership: $10,000 initiation fee, $3,000 annual dues, and 50 rounds of golf per year.

Couples Membership: $15,000 initiation fee, $4,500 annual dues, and 100 rounds of golf per year.

Family Membership: $20,000 initiation fee, $6,000 annual dues, and 150 rounds of golf per year.
These costs are just estimates and may not be accurate. The actual costs may vary depending on the specific membership level and the terms of the agreement.
It is also worth noting that Whispering Pines Golf Club also offers a membership program through the Spirit Golf Association. This program allows members to donate to charity in exchange for membership benefits, such as unlimited golf rounds. The specific costs of the Spirit Golf Association membership program are not publicly available.
Here are some additional things to keep in mind about membership at Whispering Pines Golf Club:
The club is very exclusive and only accepts a limited number of new members each year.

The club is located in a rural area, so it is important to factor in the cost of transportation and lodging if you are not a local resident.

The club is known for its challenging golf course, so it is important to be a skilled golfer if you want to join.
Overall, Whispering Pines Golf Club is a very expensive and exclusive club. However, it is also one of the most prestigious golf clubs in Texas. If you are a serious golfer and can afford the membership, it is a great option.
Whispering Pines Golf Club Amenities
Whispering Pines Golf Club is renowned for offering a comprehensive array of amenities that cater to golfers and those seeking a luxurious and recreational escape. While specific amenities can evolve over time, here are some of the typical amenities that members and guests can expect to find at Whispering Pines Golf Club:
Championship Golf Course: The centerpiece of the club is its meticulously designed 18-hole championship golf course. Known for its challenging layout and seamless integration with the natural landscape, the course offers golfers a memorable and enjoyable experience.

Practice Facilities: Whispering Pines often provides extensive practice facilities, including driving ranges, putting greens, and chipping areas. These facilities allow golfers to hone their skills and warm up before a round.

Clubhouse: The clubhouse serves as a hub for socializing, dining, and relaxation. It's typically equipped with comfortable lounges, dining areas, and possibly private event spaces for gatherings and special occasions.

Fine Dining: Many elite golf clubs offer fine dining experiences for members and guests. Expect gourmet cuisine prepared by skilled chefs in an upscale and inviting atmosphere.

Pro Shop: A well-stocked pro shop provides golfers with the latest equipment, apparel, and accessories from top brands. Golf club members often receive preferential pricing and access to exclusive merchandise.

Golf Instruction: Whispering Pines may offer professional golf instruction for players of all skill levels. Lessons, clinics, and golf schools led by experienced instructors can help golfers improve their game.

Spa and Wellness Facilities: Some upscale clubs provide spa and wellness amenities, such as massage therapy, fitness centers, and possibly yoga or meditation classes.

Swimming Pool: An outdoor swimming pool can be a refreshing amenity, especially during warmer months. It offers a place for relaxation and recreation outside of the golf course.

Tennis Courts: If there's sufficient space, tennis courts might be available for members who enjoy playing tennis as an additional recreational activity.

Social Events: Whispering Pines often hosts social events, member tournaments, and gatherings to foster a sense of community and camaraderie among members.

Concierge Services: Exclusive country clubs may offer concierge services to assist members with various arrangements, from tee times and event reservations to travel accommodations.

Nature and Outdoor Activities: Depending on the location and facilities, there might be opportunities for outdoor activities like hiking, fishing, or biking within the club's expansive grounds.
Whispering Pines Golf Club Event Information and Dining Options
The general idea of what types of events and dining options are often found at prestigious golf clubs like Whispering Pines:
Event Information:
Tournaments and Member Events: Exclusive golf clubs often host various tournaments and member events throughout the year. These could include member-only golf tournaments, charity events, holiday gatherings, and more.

Weddings and Private Events: The beautiful surroundings of Whispering Pines make it an attractive venue for weddings, receptions, and other private events. The club may offer event planning and catering services to create memorable occasions.

Corporate and Business Events: Golf clubs can be popular venues for corporate outings, meetings, and team-building events. They often have facilities and services to accommodate these types of gatherings.

Golf Clinics and Workshops: Educational events such as golf clinics, workshops, and guest speaker sessions could be part of the club's offerings. These events can help golfers improve their skills and knowledge.

Member Socials: Clubs often arrange social gatherings such as wine tastings, themed dinners, and casual mixers to encourage camaraderie among members.
Dining Options:
Fine Dining: Exclusive golf clubs often feature fine dining restaurants with gourmet menus prepared by skilled chefs. These dining establishments offer an upscale experience for members and their guests.

Casual Dining: Clubs may also offer more casual dining options, such as a grill or pub-style restaurant, where members can enjoy a relaxed meal after a round of golf.

Private Dining Rooms: Private dining rooms can be available for members who wish to host intimate gatherings, business meetings, or special occasions.

Outdoor Dining: If the climate permits, outdoor dining areas with scenic views of the golf course or surrounding landscape can be a popular choice.

Event Catering: Golf clubs often provide catering services for events held on their premises, ensuring that attendees enjoy high-quality cuisine during weddings, parties, and corporate functions.
Whispering Pines Golf Club Dress Code and Guest Policy
Golf clubs like Whispering Pines often have strict dress codes and guest policies to maintain a certain level of decorum and respect for the club's atmosphere and traditions.
Here's a general idea of what you might expect at Whispering Pines Golf Club:
Dress Code:
Golf clubs typically have dress codes that apply to both the golf course and the clubhouse. The dress code aims to create a respectful and professional environment. While the specifics can vary, the following guidelines are commonly found:
On the Golf Course:
Collared shirts for men and women.

Golf slacks, shorts, or skirts of appropriate length.

Golf shoes with soft spikes (metal spikes are usually not allowed).

Hats or visors should be worn in the appropriate manner.
In the Clubhouse:
Neat and tidy attire.

Casual wear such as tailored jeans, shorts, and casual shirts are often acceptable.

Athletic wear, swimwear, and flip-flops are usually not allowed.
It's important to note that while these are general guidelines, individual golf clubs may have more specific requirements or variations.
Guest Policy:
Golf clubs often have guest policies to ensure a positive experience for both members and their guests. Some aspects to consider might include:
Accompanied Guests: Guests may need to be accompanied by a member to play on the course. This policy can vary, and it's important to check in advance.

Maximum Number of Guests: There might be limits on the number of guests a member can bring on a particular day.

Frequency of Guests: Clubs could have limitations on how often the same guest can play as a visitor before considering membership.

Registration and Check-In: Guests may need to be registered in advance, and proper check-in procedures may be required.

Etiquette: Guests are often expected to adhere to the club's rules, dress code, and etiquette standards.
Whispering Pines Golf Club stands as a distinguished oasis where the art of golf seamlessly intertwines with the beauty of nature. With its meticulously designed championship course, commitment to environmental stewardship, and a legacy of hosting prestigious events like The Spirit International, the club has earned its place as a premier destination for golf enthusiasts and those seeking an upscale recreational experience. Whispering Pines' exceptional amenities, fine dining options, and dedication to fostering a sense of community create an atmosphere of timeless elegance and camaraderie. As a haven that embraces the spirit of golf and the tranquility of its surroundings, Whispering Pines Golf Club continues to set a remarkable standard in the world of golf and leisure.
Disclaimer: CountryClubMag.com is an independent resource and is not associated with any of the clubs on this website. Club initiation and membership cost information are estimates only and should not be relied upon for making club membership decisions.