Disclaimer: CountryClubMag.com is an independent resource and is not associated with any of the clubs on this website. Club initiation and membership cost information are estimates only and should not be relied upon for making club membership decisions.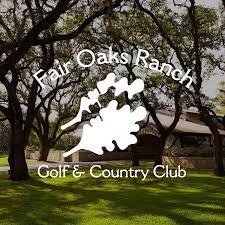 Nestled in the heart of nature's beauty, this enchanting club offers a haven for golf enthusiasts, nature lovers, and those seeking a relaxing escape.
From the rolling landscapes to the world-class golf courses, from the diverse dining experiences to the vibrant activities, Fair Oaks Ranch Golf and Country Club is a sanctuary of leisure and community.
Join us as we embark on a journey to discover the amenities, ambiance, and exceptional offerings that make this club a cherished destination for members and guests alike.
History
The undulating landscape, native oak trees, vibrant wildlife, and blooming wildflowers that grace Fair Oaks Ranch Golf and Country Club stand as a testament to the magnificence of nature.
This pristine setting is elevated by the presence of an exquisitely designed golf and tennis environment within the Club.
Commencing its journey in 1978, the Club embraced the original 14,000-square-foot ranch house belonging to Ralph E. Fair Sr., a distinguished international oilman and rancher, as its nucleus.
This charming home, erected during the 1930s, is hewn from native Texas Hill Country river rock, offering approximately 20,000 square feet of expansive high-ceilinged chambers.
As a result, the Club boasts one of the most remarkable and picturesque facilities in the entire Southwest.
The two main golf courses, The Blackjack Course and Live Oak Course were designed by Gary Player, a renowned figure in the world of golf.
He also earned the nickname "Black Knight" because he loved wearing all-black outfits on the golf course.
Gary Player revealed to ESPN that his inspiration for this style came from a TV show called "Palladin," where the main character sported all-black clothing.
Encouraged by his father to create a distinctive image, the Black Knight boldly embraced the monochrome look.
Beyond his golfing achievements, Gary Player's legacy goes far and wide as one of the most accomplished international golfers of his time. His reputation isn't only built on his golf skills, but also on his unwavering dedication to excellence.
As the community expanded into the City of Fair Oaks Ranch in 1988, the Club transformed into a cherished sanctuary—a welcoming place that feels like a second home.
This nurturing haven envelops residents, Members, and valued guests, fostering a strong sense of belonging and togetherness that adds richness to their lives.
Membership at Fair Oaks Ranch Golf and Country Club
The Club warmly welcomes Members and their guests to a world of exclusive privileges and exciting opportunities.
As a Member, you're not only part of our community but also connected to a network of prestigious country clubs and golf courses in San Antonio and beyond through the Invited Network.
Your membership opens doors to remarkable experiences wherever you go.
Membership Details
Initiation: Becoming a valued member of the Fair Oaks Ranch Golf and Country Club comes with a one-time initiation fee ranging roughly from $2,501 to $10,000. This fee grants you access to a realm of exceptional amenities and activities.
Membership Dues: Your membership dues, having an estimated cost between $5,001 to $10,000 per year, ensure ongoing access to the club's outstanding facilities and offerings.
Membership Categories
Social: This membership tier provides full access for you, your spouse, and dependent children aged 24 and under to all the Club's social, dining, fitness, and swimming facilities.
It's an invitation to enjoy a vibrant social scene and a wide range of activities.
Tennis: For those passionate about tennis, this membership offers comprehensive benefits. You, your spouse, and dependent children aged 24 and under gain full access to tennis courts, fitness amenities, swimming facilities, dining, and social areas.
Full Golf: Golf enthusiasts are in for a treat with the Full Golf membership. You, your spouse, and dependent children aged 24 and under receive unrestricted access to golf, tennis, fitness, swimming, dining, and social facilities.
As a Full Golf Member, you have the privilege of using both the Live Oak and Black Jack courses, along with practice facilities.
Classic Golf: For avid golfers who relish weekday play, the Classic Golf membership is an excellent choice. Enjoy unlimited rounds of golf on the two 18-hole courses, Live Oak and Black Jack, from Sunday noon to Friday noon.
This membership also includes access to the driving range, putting greens, and chipping areas – everything you need to hone your skills.
Amenities
Golf Course
Fair Oaks Ranch Golf and Country Club boasts two fantastic golf courses, both envisioned by the legendary Gary Player.
With a total of 36 holes, these par-72 courses present exciting challenges and even offer a chance encounter with the local wildlife as you swing away.
The Blackjack and Live Oak courses are more than just greens – they're legendary experiences that test your skills.
Beyond these courses, we offer various ways to enhance your game.
The Blackjack Course
Crafted by Gary Player, the Blackjack Course is an 18-hole championship gem. Beginning within the community, it unfolds to a 9-hole stretch through the ranch's former hay field.
Holes 6 through 14 offer a serene escape from the surroundings, and the wind on this stretch adds an extra layer of challenge for golfers of all levels.
The Live Oak Course
Designed by Gary Player and established in 1978, the Live Oak Golf Course winds through our community in the Texas Hill Country.
With ravines and vistas dotting the round, this 18-hole championship course provides a testing ground for golfers of varying skills. Wildlife, including deer, adds to the unique experience.
Golf Programs
Crush It! Juniors Program
For young golf enthusiasts, the Crush It! Juniors Program is a transformative golf development initiative. Built on the principles of the American Development Model (ADM), this program is aimed at nurturing a deep passion for golf while honing the necessary skills for success on the course.
It's not just about golf – it's about life lessons too, as kids engage proactively and learn valuable skills that apply beyond the game.
At the heart of the Crush It! Program is the belief that golf builds character.
It instills qualities such as confidence, respect, understanding, self-discipline, hard work, integrity, and talent. This holistic approach shapes young golfers into well-rounded individuals.
Game On! Program
The Game On! Program is designed for beginners and returning golfers alike.
It offers a structured environment for you to learn the game and build skills, while also forging social connections that enhance your overall experience at Fair Oaks Ranch Golf & Country Club.
Unlike traditional programs, success isn't tied to completing a set number of classes.
It's about achieving defined criteria within a 3-Level Progression Pathway, ensuring you're equipped with the skills and knowledge to conquer the course.
Dining
Fair Oaks Ranch Golf and Country Club offers three distinct dining spaces for our Members, ensuring a diverse array of meal choices.
Whether you prefer a family-friendly, tavern-style environment or an upscale dining experience on our veranda, our skilled executive chef ensures you'll leave satisfied and well-fed.
Pickleball
Pickleball Playground Discover our impressive array of six pickleball courts at Fair Oaks Ranch Golf and Country Club.
Whether you're a newcomer eager to learn or looking to refine your skills, the on-site Pickleball Instructor offers lessons and clinics.
And don't worry about equipment – the Pro Shop stocks high-quality Pickleball paddles and balls, including renowned brands like Head, Selkirk, and Gearbox.
Tennis
Fair Oaks Ranch provides 13 well-lit tennis courts, offering its Members plenty of opportunities to step onto the court and refine their game. Engage in Club leagues thoughtfully designed for players of all skill levels.
They have made it hassle-free for junior enthusiasts to learn the sport through a dedicated academy just for them, along with lessons from its skilled professionals.
Additionally, you can take advantage of the Club's 4 pickleball courts.
For adults, the in-house weeknight leagues offer a perfect avenue for involvement. Men's and ladies' leagues operate year-round, fostering connections among Members.
Summertime brings mixed leagues and exciting Friday night activities for couples.
Daytime enthusiasts can participate in a ladies' in-house singles league, while men and women can engage in USTA league play ranging from levels 2.5 to 5.0.
The Club's year-round junior academy is a dedicated platform for honing young tennis talents. From the USTA 10 & under program to elite player development, the Club is committed to nurturing growth.
Little League introduces young ones to match-play skills and scoring, while the Junior Ladder program offers challenging matchups against peers.
Refine your skills through lessons with the team of eight pros, including five USPTA-certified professionals and three assistants.
Individual practice is facilitated by the advanced ball machine, allowing you to hone your techniques.
Swimming
Fair Oaks Ranch Golf and Country Club's array of aquatic experiences begins with an exclusive adult pool, available for Members aged 18 and older.
However, this is just the start of what they offer. Two additional pools await you, each brimming with exciting features such as waterslides, zip lines, a beach entry, and even a diving board.
But that's not all – the Club also provides swim instruction and meticulously planned events catering to swimmers of all ages and skill levels.
The seasoned aquatic team comprises certified lifeguards, swimming instructors, group exercise instructors, as well as dedicated greeting staff and waitstaff.
This dedicated team ensures that the needs of each and every Member are met consistently.
Fitness Center
Discover a haven for health and wellness in the fitness center nestled within Fair Oaks Ranch Golf and Country Club.
Engage in invigorating workouts on top-notch equipment, tailor your pace to your preferences, or become part of a group or personal training programs.
At the fitness center, you'll find all the resources necessary to craft and achieve your fitness aspirations.
The fitness center offers:
Cardio Excellence: Boost your workout with the wide array of cardio equipment.
Expert Guidance: Certified personal trainers and skilled fitness instructors are present to support your journey.
Child-Friendly: Thekids' club offers childcare services, ensuring a worry-free fitness experience for parents.
Diverse Group Classes: Embrace variety with classes like Sculpt & Spin, Yoga, Barre Pilates, and high-intensity cardio sessions.
Educational Workshops: Learn about yoga and nutrition through dedicated workshops.
Virtual Workouts: Access Wexer Virtual Classes on Demand in the Group X Room.
Tailored Sessions: Experience private Barre Pilates & Yoga sessions tailored to your needs.
Weight Loss Focus: Special "Fit For Fall" programs cater to those aiming for weight loss.
Dynamic Circuit Training: Engage in Small-Group Circuit Training sessions.
Full Resistance Line: Utilize the complete range of resistance equipment.
TRX Suspension Training: Benefit from TRX Suspension Training bands.
Free Weight Area: Explore the space with dumbbells, barbells, and benches.
Year-Round Support: Attend fitness-related informational clinics held throughout the year.
Dress Code
Proper golf attire should be donned while on the course. Here's the details of what you should wear and what to avoid:
Men's Attire
Collared shirts like polo or modern-style golf shirts with turtleneck-style collars are standard.
Long pants made of cotton or polyester blend, dress shorts with pleated or flat front, or traditional golf pants are recommended.
Jeans are allowed at some courses, but others prefer golf pants or cargo shorts.
Golf shoes with soft spikes (hard rubber or plastic) for stability and traction are required.
Sneakers or running shoes might be allowed on some courses, but not always.
Women's Attire
Tops should adhere to a traditional sense of modesty, with no bathing suit tops or tube tops.
Long trousers, capris, dress shorts, or golf skirts with pleats or V-notch for motion during the swing are appropriate.
Golf shoes with soft spikes, ankle-length socks, or traditional tube socks are suitable.
Baseball-style hats, visors, straw hats, or Ben Hogan caps are popular headgear choices.
Cowboy hats, dress fedora-style hats, beanie caps, and gag hats are generally not recommended.
Remember, appropriate golf attire not only respects tradition but also enhances your comfort and performance on the course.
Final Thoughts
In conclusion, Fair Oaks Ranch Golf and Country Club stands as a testament to the harmonious blend of nature's splendor and human ingenuity.
With its rich history, legendary golf courses, and a wide array of amenities catering to every interest, it's not merely a club – it's a lifestyle.
Whether you're teeing off on the iconic fairways, savoring delectable meals, perfecting your swing, or simply relishing the camaraderie of like-minded individuals, Fair Oaks Ranch Golf and Country Club offers an experience that transcends the ordinary.
It's a place where memories are made, bonds are forged, and passions find their sanctuary. So, come and immerse yourself in a world of elegance, sport, and relaxation – where every moment is a celebration of the finer things in life.