Disclaimer: CountryClubMag.com is an independent resource and is not associated with any of the clubs on this website. Club initiation and membership cost information are estimates only and should not be relied upon for making club membership decisions.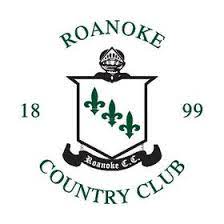 Nestled in the heart of the picturesque Blue Ridge Mountains, Roanoke Country Club in Roanoke, Virginia, is a premier destination for those seeking an unparalleled blend of recreational excellence and Southern charm. Established as a haven for golf, tennis, fine dining, and social gatherings, this historic club has been a cherished part of the Roanoke Valley's social fabric for generations.
With its meticulously manicured golf course, state-of-the-art tennis facilities, and a warm and welcoming clubhouse, Roanoke Country Club offers a sophisticated yet relaxed environment that fosters both camaraderie and recreation. Whether you're a golf enthusiast, a tennis aficionado, or simply seeking a refined retreat, Roanoke Country Club welcomes you to experience the epitome of Southern hospitality and leisure.
Roanoke Country Club History and Founding
Roanoke Country Club has a rich and storied history dating back to its founding in 1899. This venerable institution was established as a response to the growing popularity of golf and the desire for a social hub in the Roanoke Valley. Originally located on the grounds of what is now the Virginia Western Community College, the club soon outgrew its initial location, prompting a move to the current site on Hershberger Road.
The renowned golf course architect, A.W. Tillinghast, who was acclaimed for his work on some of the country's most prestigious courses, including Winged Foot and Baltusrol, lent his expertise to the design of the Roanoke Country Club's golf course. Tillinghast's vision is still evident today in the classic layout and challenging features of the course, making it a true gem for golf enthusiasts.
Over the years, Roanoke Country Club has continually evolved, expanding its facilities and amenities to cater to the diverse interests and needs of its members. Its enduring commitment to excellence in golf, tennis, and social activities has made it a beloved institution in the Roanoke community. The club's remarkable history, coupled with its timeless design by A.W. Tillinghast, has cemented its status as a cherished destination for both recreation and camaraderie.
Famous Golf Tournament held at Roanoke Country Club
The most famous golf tournament held at Roanoke Country Club in Roanoke, Virginia is the Scott Robertson Memorial Tournament. It is a 54-hole stroke play event held in memory of Scott Robertson, a promising young Roanoke Country Club golfer who died in 1982. The tournament is ranked among the nation's top junior golf competitions and attracts some of the best junior golfers in the country.
Other notable golf tournaments that have been held at Roanoke Country Club include the Virginia Open, the Roanoke Valley Open, and the Roanoke Invitational. These tournaments have been held at the club at various times over the years, and they have attracted some of the best professional and amateur golfers in the region.
In addition to these tournaments, Roanoke Country Club has also hosted numerous other golf events, including charity tournaments, corporate outings, and member-guest tournaments. The club is known for its challenging and well-maintained golf course, as well as its welcoming and hospitable atmosphere.
Roanoke Country Club Membership Costs and Dues
Roanoke Country Club Roanoke VA Estimated and rumored Membership Costs and Dues
Initiation Fee: $10,000
Monthly Dues: $500
Annual Dues: $6,000
Please note that these are estimates and rumored costs and dues. The actual membership costs and dues may vary depending on your membership type and other factors.
Additional information:
Roanoke Country Club offers a variety of membership options, including individual, family, and corporate memberships.
Membership dues cover the use of all of the club's facilities and amenities, including the golf course, tennis courts, swimming pool, and clubhouse.
Members are also required to pay a food and beverage minimum on a monthly basis.
Roanoke Country Club is a private club, and membership is by invitation only.
Roanoke Country Club Amenities
The Roanoke Country Club offers a range of amenities and facilities to cater to the interests and recreational needs of its members. While the specific amenities may evolve over time, here are some typical amenities you might find at a country club like Roanoke Country Club:
Golf Course: A meticulously maintained golf course, designed by the renowned architect A.W. Tillinghast, is a centerpiece of the club. Members can enjoy challenging rounds of golf in a scenic setting.
Tennis Courts: State-of-the-art tennis facilities, including both indoor and outdoor courts, provide opportunities for tennis enthusiasts to play and compete.
Swimming Pool: Many country clubs feature swimming pools, often with additional amenities such as a poolside bar, lounge chairs, and activities for all ages.
Clubhouse: The clubhouse is a central hub for members, offering dining facilities, social events, and often spaces for private functions like weddings and banquets.
Dining: Fine dining and casual dining options are typically available, allowing members to enjoy a range of culinary experiences.
Fitness Center: Some country clubs have fitness facilities equipped with modern exercise equipment, personal trainers, and group fitness classes.
Social Activities: The club often organizes a variety of social activities, including events, parties, and gatherings, to foster a sense of community among members.
Junior Programs: Many country clubs offer junior golf and tennis programs, encouraging younger members to develop their skills and interests.
Pro Shop: A pro shop for golf and tennis equipment, apparel, and accessories is usually available for members to purchase necessary gear.
Spa and Wellness Services: Some country clubs offer spa and wellness services for members looking to relax and rejuvenate.
Meeting and Event Spaces: The club may have spaces for business meetings, conferences, and private events, often with catering services available.
Roanoke Country Club Event Information and Dining Options
Roanoke Country Club, like many private clubs, offers a variety of events and occasions that members can celebrate. The specific events and celebrations available at the club may vary from year to year, but here are some common types of events you can typically celebrate at a country club like Roanoke Country Club:
Weddings: Many country clubs have elegant settings and event spaces that are ideal for hosting weddings and wedding receptions. They often provide wedding planning services and can accommodate both small and large gatherings.
Anniversaries: Celebrate milestone anniversaries and special occasions with family and friends in a private and upscale setting.
Birthdays: Whether it's a child's birthday party by the pool or a more formal celebration, the club can often cater to various birthday party needs.
Corporate Events: Country clubs can be suitable venues for corporate meetings, conferences, and team-building events. They offer professional spaces and catering services.
Holiday Parties: Many clubs host special holiday events and themed parties for members, creating a festive atmosphere during holidays like Christmas, New Year's, or Independence Day.
Golf Tournaments: Participate in or organize golf tournaments for members, guests, or charity events. It's a great way to combine a love for golf with socializing.
Tennis Tournaments: For tennis enthusiasts, the club may host tournaments and events for players of all skill levels.
Family Reunions: Gather your extended family for a reunion in a relaxed and private setting with amenities for all ages.
Social Mixers: Clubs often organize regular social mixers and events, fostering a sense of community and allowing members to get to know each other better.
Themed Parties: Country clubs sometimes host themed parties, such as costume parties, black-tie galas, and wine-tasting events.
Live Entertainment: Enjoy live music, comedy nights, and other entertainment events that the club may organize.
Charity Fundraisers: Some clubs host charity events, galas, or fundraisers, allowing members to contribute to important causes while socializing.
Children's Activities: For families, the club may offer children's events and activities, like Easter egg hunts, summer camps, and more.
Dining options at Roanoke Country Club typically offer a range of choices to cater to the diverse preferences of its members and guests.
Here are the typical dining options you might find at a country club like Roanoke Country Club:
Fine Dining: The club's fine dining restaurant often provides an upscale and elegant setting for members and their guests. This restaurant typically features a diverse and frequently changing menu, offering a variety of culinary delights. Fine dining options are perfect for special occasions or formal dining experiences.
Casual Dining: In addition to fine dining, country clubs usually offer more relaxed, casual dining options. This may include a grill or a less formal dining area, providing a laid-back atmosphere for members to enjoy a meal or a drink.
Clubhouse Dining: The clubhouse often serves as the central hub for dining and socializing, with views of the golf course or other scenic surroundings. This area may offer both fine and casual dining options to cater to different preferences.
Bars and Lounges: Many country clubs have bars and lounges where members can unwind, have a drink, and socialize. These areas may include a bar menu with appetizers and light fare.
Special Event Dining: For private events such as weddings, anniversary celebrations, or corporate meetings, the club typically provides catering services with customized menus to suit the occasion.
Outdoor Dining: Depending on the club's layout, outdoor dining options may be available, allowing members to enjoy meals or drinks on patios or terraces while taking in the fresh air and scenic views.
Theme Nights: Some country clubs organize theme nights or special dining events, such as wine tastings, seafood nights, or gourmet dinners, offering unique dining experiences for members.
Catering Services: The club's culinary team may offer catering services for both on-site and off-site events. This can include custom menus for private parties, weddings, and other gatherings.
Roanoke Country Club Dress Code and Guest Policy
Dress codes and guest policies at country clubs like Roanoke Country Club are typically in place to maintain a certain level of decorum and to ensure that the club's environment is respectful and appropriate for all members and guests.
Here's a general idea of what you might expect:
Dress Code:
Golf Course: Most country clubs have specific dress codes for the golf course. This often includes collared shirts, proper golf shorts or slacks, and golf-appropriate footwear. Denim, athletic wear, and t-shirts are typically not allowed on the golf course.
Tennis Courts: Tennis attire is usually expected on the tennis courts, including tennis shoes with non-marking soles.
Clubhouse and Dining Areas: The clubhouse and dining areas often have more formal dress codes, which may include collared shirts, dress slacks or nice jeans, and appropriate footwear. T-shirts, athletic wear, and swimwear are generally not allowed in these areas.
Special Events: Formal events may have specific dress codes, such as black-tie attire for galas and similar occasions.
Guest Policy:
Guest policies at country clubs can vary, but they typically include the following:
Member Sponsorship: Guests are usually required to be sponsored by a member of the club. The member is often responsible for ensuring that their guest complies with the club's rules and etiquette.
Limitations: There may be restrictions on how often the same guest can visit the club. Some clubs have daily or monthly limits.
Fees: There might be guest fees associated with the visit, which can vary based on the club's policies.
Observance of Club Rules: Guests are expected to adhere to the club's rules, including the dress code and behavior expectations.
Roanoke Country Club, nestled in the picturesque Roanoke Valley, stands as a cherished hub of recreation, camaraderie, and elegance. With its rich history, classic golf course designed by A.W. Tillinghast, and a range of amenities including fine dining and event spaces, the club caters to a diverse array of interests and celebrations.
While the specific details of its offerings may have evolved since my last knowledge update, Roanoke Country Club remains a testament to timeless Southern hospitality and a warm invitation to all seeking a refined retreat and a strong sense of community.
Disclaimer: CountryClubMag.com is an independent resource and is not associated with any of the clubs on this website. Club initiation and membership cost information are estimates only and should not be relied upon for making club membership decisions.