Disclaimer: CountryClubMag.com is an independent resource and is not associated with any of the clubs on this website. Club initiation and membership cost information are estimates only and should not be relied upon for making club membership decisions.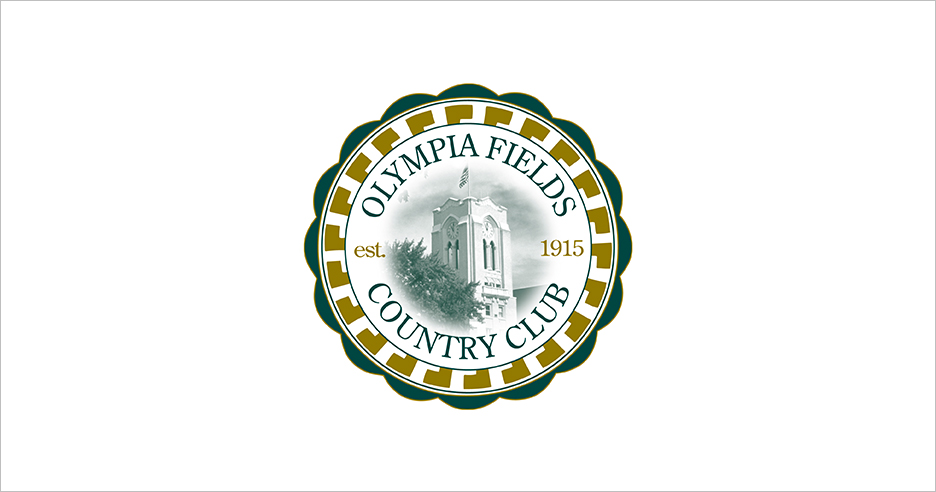 Olympia Fields Country Club, founded in 1915 and located 25 miles south of downtown Chicago is one of the premier golf courses in Illinois and the entire United States. While golf is typically the highlight when people talk about Olympia Fields Country Club, there is also a thriving country club as well with many amenities including tennis, a large pool, and more.
Located in aptly-named Olympia Fields, IL, Olympia Fields Country Club (OFCC) is nestled in the rolling hills of the southern suburbs of Chicago. As you drive from the city toward the country club, you're presented with scenes of suburbia fading into exurban and rural views. There's a long and winding neighborhood road on your way in, and then you're presented with a gate and security personnel to wave you in.
Once you make your way to the club itself, the incredibly large clubhouse will be immediately recognizable. Finished in 1925 and in a distinct Tudor style, the clubhouse is famous around the world for its clocktower. It was also the largest golf clubhouse in the entire world when it was built.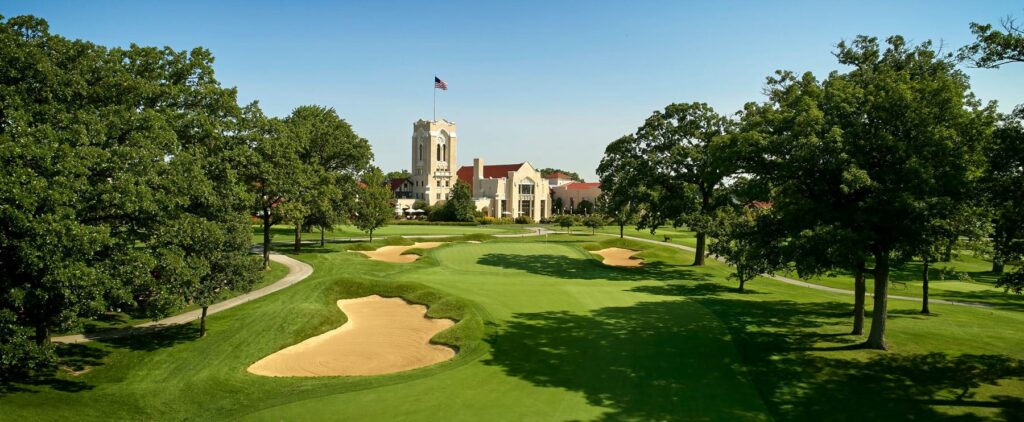 Olympia Fields in the 1920s had four golf courses and a fifth on the way, but major financial difficulties during the Great Depression and WW2 forced the club to sell off half of its land. Today, the North Course and South Course are the stars of the show. The North Course is where major golf tournaments are hosted and the South Course gets rave reviews from members and their guests.
Olympia Fields' North Course has hosted four major championships: two U.S. Opens (1928, 2003) and two PGA Championships (1925, 1961). It has also been the site of the U.S. Senior Open (1997) the U.S. Amateur (2015), and the 2017 KPMG Women's PGA Championship. In addition, the Western Open on the PGA Tour was played at the club five times. Olympia Fields is a regular host of the PGA Tour's BMW Championship, with the most recent event contested in 2023. The BMW Championship is the longest-running PGA event outside of the four major championships.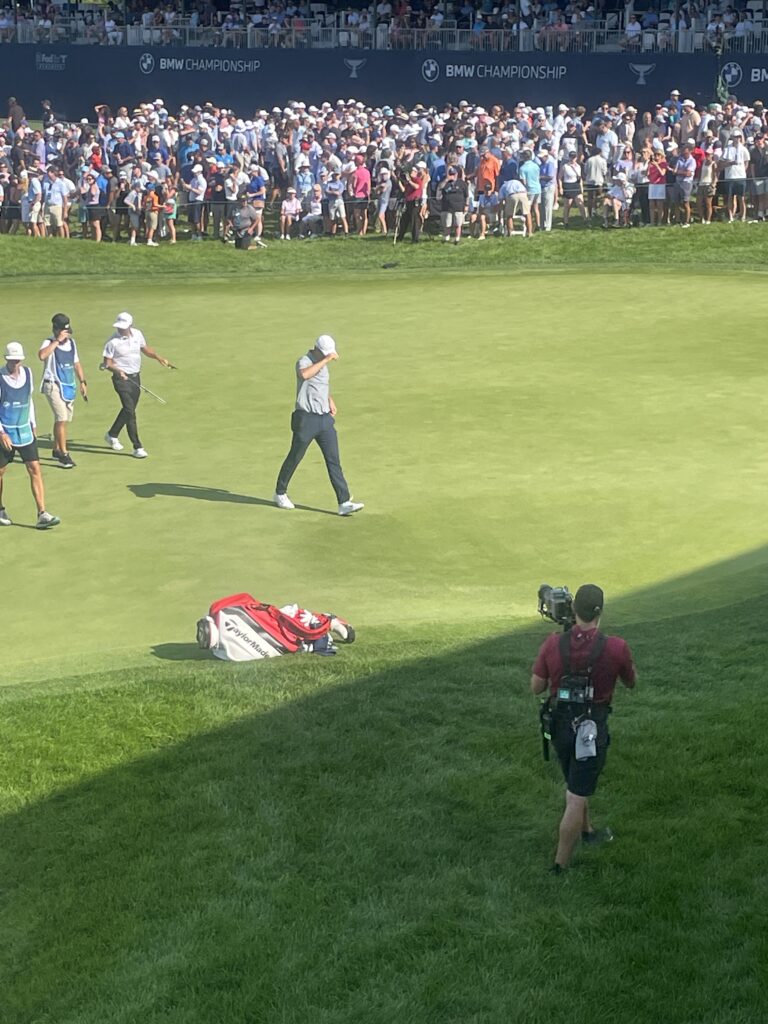 Olympia Fields Country Club North Course Walkthrough
Olympia Fields Country Club Membership Cost
According to a 2017 brochure we were able to get our hands on (see below), the initiation fee at the time was around $20,000 if paid upfront, and $25K if paid in two installments. Since 2017 golf has exploded in popularity and we've heard from our sources that the initiation fee at Olympia Fields has gone up a good amount since then. That said, Olympia Fields does still offer reduced rates for seniors and for younger members from the age of 23 through 39.
The monthly dues range from $300-$800 per month, and there are capital dues ranging from $37.50 up to $100 per month. Additionally, OFCC has annual food and dining minimums which are around $750 for the year.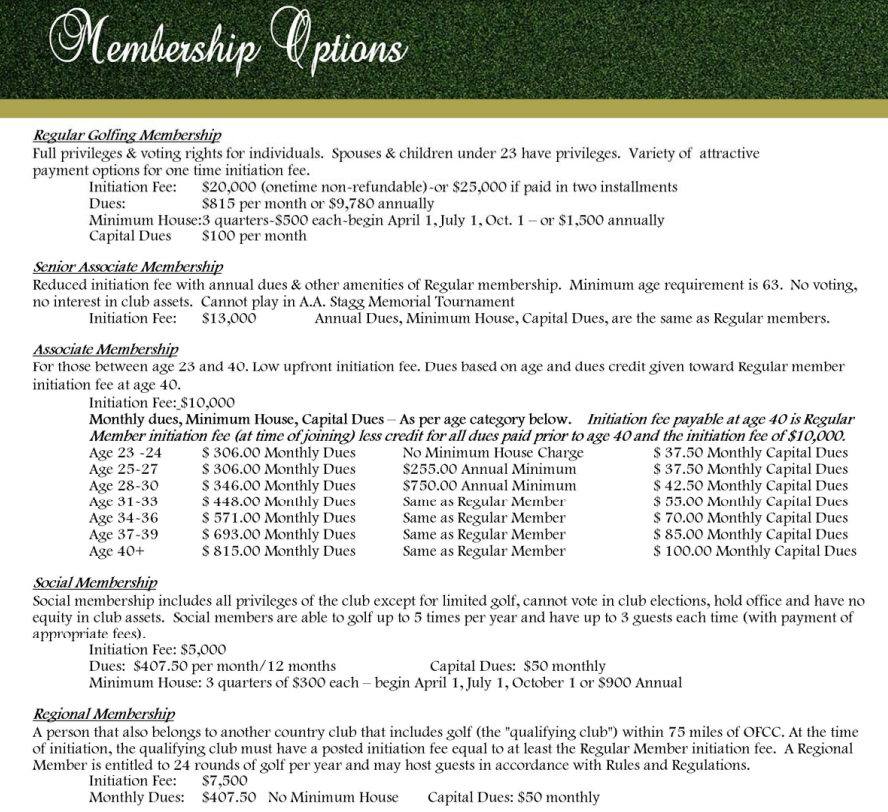 Olympia Fields also has a Social Membership option that is great for those who aren't golfers or don't golf regularly. The only thing is that this membership does not include any sort of equity in club assets. Also, OFCC has an interesting Regional Membership that allows people who are members of another local club to get up to 24 rounds of golf per year. Fascinating!
Olympia Fields Country Club Amenities
While the North and South Courses are certainly the highlights of the amenities at Olympia Fields, there's no lack of additional amenities for the entire family.
The number one amenity besides golf is definitely the large pool which features a cabana bar and restaurant located close by. You're able to grab drinks and food at the bar or even have them brought to your lounge area by the pool.
One useful winter-time activity that's a big hit in Chicago-area country clubs are the platform tennis courts. Olympia Fields installed a platform tennis court in the early 70s so they have 50+ years of experience running platform tennis leagues.
Adding to the racquet sports, OFCC also has a world-class tennis program. With 6 well-maintained tennis courts, you'll be sure to get a tennis match any day that the Illinois weather cooperates!
Olympia Fields also has a few dining concepts that are open to members and their guests only. The most formal dining area is called the Normandy Room and is famous for its candlelight dinners. The newly renovated 1915 Club and Patio is an excellent place to drink some refreshments and light food options. The Stagg Room and the 73rd Hole round out the dining options and are both casual places to each lunch during the day.
Olympia Fields Country Club Dress Code | Visitor's Guide
If you're brought along as a guest to Olympia Fields Country Club, here is what you need to know about the dress code while you're there.
Whether in the clubhouse or on the course, our dress codes apply. Obviously attire will change by event or activity. Only conventional and appropriate golf attire may be worn on club grounds, the golf course, and the practice facilities. Shorts are permitted for both men and women, but should rise no more than four inches above the knee. Apparel such as cargo shorts/pants, tennis shorts, athletic or jogging shorts, cutoff slacks, swimming attire, blue jeans, denim, halter tops, numeral jerseys, uncol­lared shirts (for men) and T-shirts are not allowed. Gentlemen's shirts must be tucked in at all times and hats are to be worn bill forward while outside and all headwear must be removed upon entering the clubhouse. This policy also includes Junior Golfers.

From Olympia Fields Country Club Website
Disclaimer: CountryClubMag.com is an independent resource and is not associated with any of the clubs on this website. Club initiation and membership cost information are estimates only and should not be relied upon for making club membership decisions.