Disclaimer: CountryClubMag.com is an independent resource and is not associated with any of the clubs on this website. Club initiation and membership cost information are estimates only and should not be relied upon for making club membership decisions.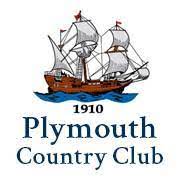 Welcome to the picturesque Plymouth Country Club, nestled in the charming coastal town of Plymouth, Massachusetts. A true gem of New England, this distinguished country club offers an unparalleled experience for members and guests alike. With its rich history, Plymouth Country Club boasts a legacy of providing exceptional recreational and social amenities amidst breathtaking natural beauty.
Whether you're an avid golfer seeking to challenge your skills on our meticulously maintained fairways, a tennis enthusiast looking to improve your game, or simply seeking an elegant setting to relax and indulge in fine dining, Plymouth Country Club has something to offer everyone. Join us as we celebrate the perfect blend of tradition, camaraderie, and leisure, all set against the stunning backdrop of Plymouth's coastal splendor.
Plymouth Country Club History and Founding
The history of Plymouth Country Club is deeply rooted in the heritage of Plymouth, Massachusetts. Founded in 1910, the club has a long-standing tradition of providing a premier recreational and social destination for its members and guests. The architect of Plymouth Country Club is Donald Ross. He is a Scottish-American golf course architect who is considered one of the greatest in history. He designed over 400 courses in the United States, including some of the most famous in the country, such as Pinehurst No. 2 and The Country Club.
Originally established as a golf club, the Plymouth Country Club's founding members envisioned creating a sanctuary for golf enthusiasts amidst the captivating landscapes of Plymouth. The club's founders were passionate about preserving the essence of the sport while fostering a sense of community and camaraderie among its members.
Over the years, the club expanded its offerings beyond golf, incorporating other amenities to meet the diverse interests of its growing membership. State-of-the-art tennis courts, swimming pools, and elegant dining facilities were added, enhancing the club's allure as a versatile destination for both sports and leisure.
Throughout its history, Plymouth Country Club has been a cherished gathering place for locals and visitors alike. It has played an essential role in fostering cherished memories and hosting numerous social events, tournaments, and celebrations that have enriched the lives of its members and their families.
As the club evolved, it never lost sight of its commitment to maintaining the highest standards of service, facilities, and hospitality. Generations of members have found a second home at Plymouth Country Club, a place where they can forge lasting friendships, enjoy quality recreational pursuits, and experience the unique charm of Plymouth.
Today, the Plymouth Country Club stands as a testament to its founders' vision and the dedication of its members throughout the years. With its storied past and continued commitment to excellence, the club remains an integral part of the Plymouth community, carrying its legacy forward for generations to come.
Famous Golf Tournament held at Plymouth Country Club
One of the most famous golf tournaments held at Plymouth Country Club is the annual "Plymouth Open." This prestigious event has been a long-standing tradition at the club, drawing professional and amateur golfers from near and far to compete in a challenging and thrilling tournament.
The Plymouth Open has earned a reputation for its competitive spirit, well-designed course, and stunning coastal views, making it a highly anticipated event on the golfing calendar. Golfers of all skill levels vie for the opportunity to claim the title and have their names etched into the tournament's history.
What sets the Plymouth Open apart is not only the exceptional golfing experience but also the warm and welcoming atmosphere that pervades the entire event. Spectators, club members, and players alike come together to celebrate the sport, creating a sense of community and camaraderie throughout the tournament.
Throughout the years, the Plymouth Open has seen some remarkable moments, thrilling comebacks, and outstanding displays of skill. It has attracted attention not only from golf enthusiasts but also from the broader golfing community, solidifying Plymouth Country Club's reputation as a top-notch golfing destination.
The Plymouth Open is more than just a golf tournament; it represents a cherished tradition that embodies the essence of Plymouth Country Club's commitment to excellence, sportsmanship, and the enduring passion for the game of golf. As the tournament continues to thrive year after year, it remains an integral part of the club's heritage and continues to add to the rich tapestry of golfing history in Plymouth, Massachusetts.
Plymouth Country Club Membership Costs and Dues

Plymouth Country Club does not publicly disclose its membership costs and dues. However, there are some estimates and rumors that have been circulated.
Estimated initiation fees:
Full golf membership: $50,000 – $100,000
Social membership: $25,000 – $50,000
Rumored annual dues:
Full golf membership: $10,000 – $20,000
Social membership: $5,000 – $10,000
It is important to note that these are just estimates and rumors, and the actual costs may be different. The club may also offer discounts for members who are over a certain age or who have been members for a certain number of years.
Here are some additional factors that may affect membership costs at Plymouth Country Club:
The age of the member
The member's length of membership
The member's golfing ability
The member's social status
Plymouth Country Club Amenities
Here are some of the common amenities that may be available at the club:
18-Hole Championship Golf Course: A meticulously designed and well-maintained golf course that provides a challenging yet enjoyable experience for golfers of all skill levels.

Practice Facilities: Driving ranges, putting greens, and chipping areas to help golfers improve their skills and warm up before a round.

Tennis Courts: State-of-the-art tennis facilities, including both hard and clay courts, for tennis enthusiasts to enjoy friendly matches or professional coaching.

Swimming Pools: Pools for both recreational swimming and organized activities, provide a refreshing escape during warm weather.

Fitness Center: A well-equipped fitness center with modern exercise equipment, offering opportunities for members to stay active and fit.

Dining Facilities: Elegant dining rooms and casual dining options where members can savor delectable cuisine and enjoy social gatherings.

Social Events: A calendar of social events, including parties, themed dinners, holiday celebrations, and more, fostering a sense of community among the members.

Junior Programs: Special programs and activities designed for children and young members, encouraging family involvement and creating a welcoming environment for families.

Event Spaces: Private event and banquet spaces for hosting weddings, parties, meetings, and other special occasions.

Pro Shop: A well-stocked pro shop offering golf and tennis equipment, apparel, and accessories.
It's essential to note that amenities can change over time, and new offerings might be introduced to enhance the club's offerings further.
Plymouth Country Club Event Information and Dining Options
Plymouth Country Club can host a variety of events to cater to the interests and preferences of its members and guests. While the specific events may vary depending on the club's offerings and calendar, here are some common types of events that can be celebrated at Plymouth Country Club:
Golf Tournaments: The country club can host various golf tournaments throughout the year, including member-only competitions, charity fundraisers, corporate outings, and interclub matches.

Tennis Tournaments: For tennis enthusiasts, the club may organize friendly tournaments and matches, allowing players to showcase their skills and compete in a fun and social setting.

Social Gatherings: Plymouth Country Club can arrange a wide range of social events, such as themed parties, holiday celebrations, gala dinners, cocktail receptions, and dances, fostering a sense of community among members.

Weddings and Receptions: With its scenic surroundings and elegant facilities, the club can serve as a picturesque venue for weddings, receptions, and other milestone celebrations.

Corporate Events: Businesses and organizations can utilize the club's event spaces to host conferences, meetings, seminars, and team-building activities.

Family Days: Plymouth Country Club may organize family-oriented events, including picnics, children's parties, and family sports days, encouraging quality time and bonding among families.

Special Occasions: Members can celebrate personal milestones like birthdays, anniversaries, and graduations at the club, creating memorable moments with loved ones.

Concerts and Live Entertainment: The club might host live performances, concerts, or entertainment nights to add a touch of excitement and culture to the social calendar.

Art and Cultural Events: Plymouth Country Club may collaborate with local artists or cultural organizations to host art exhibitions, workshops, or lectures.

Charity Fundraisers: The club can support charitable causes by organizing fundraising events and galas, contributing to the betterment of the community.
It's important to note that the specific events available at Plymouth Country Club can change from year to year, and the club may introduce new and exciting celebrations based on member interests and feedback.
Plymouth Country Club may have included the following:
Formal Dining Room: A refined and elegant setting where members can enjoy fine dining experiences with a carefully crafted menu, featuring a selection of gourmet dishes and seasonal specialties.

Casual Dining Areas: These areas offer a more relaxed atmosphere for members to gather and enjoy a variety of delicious meals, including classic club favorites, sandwiches, salads, and comfort foods.

Outdoor Terrace: A scenic outdoor terrace overlooking the golf course or other picturesque views, providing a delightful al fresco dining experience during fair weather.

Bar and Lounge: The bar area serves as a lively spot for members to unwind, socialize, and enjoy a range of beverages, including cocktails, wines, and craft beers, along with a lighter menu of appetizers and snacks.

Specialty Nights: The club may host themed dining events, such as seafood nights, steak nights, pasta nights, or regional cuisine nights, offering members an opportunity to savor a diverse array of culinary delights.

Sunday Brunch: A popular offering that allows members and their guests to indulge in a delectable brunch spread featuring breakfast favorites, carving stations, fresh pastries, and more.
Please note that dining options can evolve over time based on member preferences and changing trends. The Plymouth Country Club may have expanded its dining facilities and menu offerings or introduced new concepts since my last update.
Plymouth Country Club Dress Code and Guest Policy
Dress Code: Country clubs usually have dress codes to maintain a certain level of decorum and uphold the club's atmosphere. The dress code often applies to both members and guests and typically includes guidelines for various areas of the club, such as the golf course, tennis courts, dining areas, and clubhouse. Common dress code rules include:
Proper golf attire on the golf course (collared shirts, golf pants/shorts/skirts, golf shoes, etc.).
Appropriate tennis attire on the tennis courts (tennis shirts, shorts/skirts, non-marking tennis shoes).
Smart casual or formal wear in the clubhouse and dining areas (collared shirts, slacks, dresses, etc.).
Avoidance of athletic wear, denim, and overly casual or revealing clothing in certain areas.
Guest Policy: Country clubs often have guest policies to regulate the access of non-members to the club's facilities. These policies can vary and might include rules such as:
Limitations on the number of times a guest can visit in a given period.
Requirement for members to accompany their guests during their visit.
Guest fees for using certain facilities or attending specific events.
Again, please note that the information provided here is a general overview, and Plymouth Country Club's dress code and guest policy may differ.
Plymouth Country Club stands as a beacon of tradition, elegance, and community in the charming town of Plymouth, Massachusetts. With its rich history and commitment to excellence, the club has created a haven for golfers, tennis enthusiasts, and families seeking a refined recreational experience. Its well-designed golf course, state-of-the-art tennis facilities, and an array of social amenities provide members with a diverse range of opportunities to connect, relax, and create lasting memories.
Embracing the beauty of its coastal surroundings, Plymouth Country Club remains a cherished destination where members and guests alike can revel in the joys of leisure, camaraderie, and the timeless allure of this New England gem.
Disclaimer: CountryClubMag.com is an independent resource and is not associated with any of the clubs on this website. Club initiation and membership cost information are estimates only and should not be relied upon for making club membership decisions.