Disclaimer: CountryClubMag.com is an independent resource and is not associated with any of the clubs on this website. Club initiation and membership cost information are estimates only and should not be relied upon for making club membership decisions.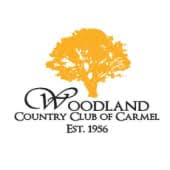 Welcome to Woodland Country Club, nestled in the picturesque city of Carmel, Indiana. Our prestigious club offers an oasis of tranquility and luxury amidst the natural beauty of the Carmel landscape. Whether you're an avid golfer, a tennis enthusiast, or simply seeking an elegant venue for social gatherings, Woodland Country Club promises an exceptional experience. Join us as we explore the unparalleled amenities and vibrant community that make Woodland Country Club Carmel's premier destination for recreation and relaxation.
Woodland Country Club History and Founding
Woodland Country Club, a cornerstone of the Carmel, Indiana community, has a rich history dating back to its founding in 1919. The club was established by a group of local visionaries who recognized the need for a distinguished recreational and social haven in the burgeoning Carmel area.
Architect William Diddel, a renowned figure in golf course design, was entrusted with crafting the club's golf course. Diddel's expertise in creating challenging yet picturesque courses is evident in Woodland Country Club's layout, which has continued to captivate golf enthusiasts for generations.
Over the years, Woodland Country Club has evolved and expanded, adding a range of amenities and facilities that cater to the diverse interests of its members. From its championship golf course to its top-notch tennis courts, elegant dining options, and vibrant social scene, Woodland Country Club has remained a cherished institution in Carmel, offering members and their families a place to create lasting memories while enjoying the beauty of Indiana's countryside.
Today, Woodland Country Club stands as a testament to its founders' vision and the enduring legacy of William Diddel's design, providing a welcoming and prestigious retreat for the Carmel community and beyond.
Famous Golf Tournament held at Woodland Country Club
There are no famous golf tournaments held at Woodland Country Club in Carmel, Indiana. It is a private golf club that hosts various events for its members and guests, but it does not host any professional golf tournaments.
Woodland Country Club is a highly-regarded golf course in Indiana, and it has been ranked as one of the best courses in the state by Golf Digest. It was designed by William H. Diddel and Pete Dye, and it features a challenging layout with undulating fairways, water hazards, and strategically placed bunkers.
While Woodland Country Club does not host any professional golf tournaments, it has been the site of several important amateur events, including the Indiana State Amateur Championship and the Indiana State Open Championship. The club has also hosted several NCAA golf tournaments, including the NCAA Division I Men's Golf Championship in 2005.
Woodland Country Club is a beautiful and challenging golf course that is enjoyable for golfers of all skill levels. While it does not host any professional golf tournaments, it is a popular destination for golfers from all over the country.
Woodland Country Club Membership Costs and Dues
Woodland Country Club in Carmel, IN is a private country club with a reputation for excellence. It offers a variety of amenities to its members, including an 18-hole championship golf course, swimming pool, tennis courts, and a fitness center.
Estimated and rumored membership costs and dues for Woodland Country Club:
Initiation fee: $35,000
Monthly dues: $500
Food minimum: $200
These numbers are based on estimates and rumors, as the club does not disclose its membership fees to the public. It is important to note that these costs may vary depending on the type of membership you choose and your family situation.
Here are some additional details about Woodland Country Club membership:
Membership categories: Woodland Country Club offers a variety of membership categories, including golf memberships, social memberships, and corporate memberships.
Family memberships: Family memberships are available for most membership categories.
Guest fees: Members are allowed to bring guests to the club, but they are subject to guest fees.
Woodland Country Club Amenities
Woodland Country Club in Carmel, Indiana, is known for offering a range of amenities to cater to the diverse interests and needs of its members. These amenities typically include:
Championship Golf Course: Woodland Country Club boasts a well-maintained and challenging 18-hole golf course, designed by renowned architect William Diddel. It's a focal point for many members and offers both recreational play and opportunities for competitive tournaments.
Tennis Facilities: The club often features tennis courts, including both hard and clay surfaces, for members who enjoy playing tennis. There may also be tennis programs, lessons, and leagues available.
Swimming Pool: Many country clubs have swimming pools for members to relax and cool off during the summer months. These pools often come equipped with lounging areas and sometimes even swim programs or lessons.
Dining Options: Woodland Country Club typically offers various dining options, from casual dining to upscale restaurants. Members can enjoy a diverse menu and culinary experiences, often accompanied by scenic views.
Clubhouse: The clubhouse serves as a central hub for social activities, events, and gatherings. It's a place where members can relax, socialize, and enjoy the club's amenities.
Fitness Facilities: Some country clubs include fitness centers or gyms, equipped with exercise equipment and spaces for group fitness classes.
Social Events: Woodland Country Club often hosts a variety of social events and activities throughout the year, ranging from holiday parties and themed dinners to family-friendly gatherings.
Private Event Spaces: The club may have event spaces available for hosting private functions such as weddings, parties, and corporate events.
Woodland Country Club Event Information and Dining Options
Woodland Country Club in Carmel, Indiana, typically hosts a variety of events and celebrations throughout the year for its members and guests. While the specific events can vary from year to year and season to season, here are some common types of events that you might be able to celebrate at a country club like Woodland:
Holiday Parties: Many country clubs host special events and parties for major holidays such as Thanksgiving, Christmas, New Year's Eve, and Easter. These celebrations often feature festive decorations, special menus, and entertainment.
Themed Dinners: Country clubs sometimes organize themed dinner nights, where members can enjoy cuisine from around the world or experience unique culinary themes. These dinners can be a fun way to explore different cuisines.
Wine Tastings: Wine enthusiasts can look forward to wine-tasting events where they can sample a selection of wines and learn about wine pairings and tasting techniques.
Golf Tournaments: Woodland Country Club often hosts golf tournaments throughout the year, including member-only tournaments, charity events, and special competitions. These tournaments can be a great way to challenge your golf skills and socialize with other members.
Tennis Events: If you're a tennis enthusiast, the club may organize tennis tournaments, mixers, or clinics where you can improve your game and enjoy some friendly competition.
Family Events: Country clubs often have family-friendly events like family picnics, movie nights, and kids' parties designed to bring families together and create a sense of community.
Special Occasions: Woodland Country Club is a popular venue for celebrating life's special occasions, including weddings, anniversaries, milestone birthdays, and retirement parties. The club can provide event spaces, catering services, and event planning assistance for these occasions.
Fitness and Wellness Events: Some country clubs offer fitness and wellness events such as yoga classes, fitness challenges, and health seminars to help members maintain a healthy and active lifestyle.
Cultural and Educational Events: Country clubs may also host cultural events, guest speakers, and educational workshops on topics ranging from art and history to finance and personal development.
Charity and Fundraising Events: Woodland Country Club may participate in or host charity golf tournaments, galas, or fundraisers to support local causes and charities.
Dining options at Woodland Country Club in Carmel, Indiana, typically cater to a range of preferences and occasions.
Here are common dining options you might find at a country club like Woodland:
Casual Dining: Country clubs often have a casual dining area, such as a clubhouse grill or pub-style restaurant. This space typically offers a relaxed atmosphere and a menu with a variety of dishes suitable for everyday dining. You can enjoy sandwiches, burgers, salads, and other casual fare.
Formal Dining: For more upscale or special occasions, Woodland Country Club may feature a formal dining room. This elegant setting often offers a gourmet menu with dishes prepared by a skilled culinary team. It's an ideal choice for celebrating special events or enjoying a fine dining experience.
Bars and Lounges: The club may have bars and lounges where members can unwind with a drink, watch sports events on TV, or socialize with fellow members. These areas may offer a selection of cocktails, beers, wines, and a light bar menu.
Specialty Menus: Depending on the time of year and specific events, the culinary team at Woodland Country Club may create specialty menus. These can include holiday feasts, themed dinners (e.g., Italian, seafood), and wine-pairing events where members can enjoy unique and curated culinary experiences.
Outdoor Dining: Some country clubs offer outdoor dining options, such as patios or terraces with picturesque views of the golf course or surrounding landscapes. Outdoor dining can be particularly enjoyable during the warmer months.
Private Dining: Woodland Country Club often provides private dining spaces for members to host events, celebrations, or business meetings. These spaces can be reserved for more intimate gatherings.
Catering Services: If you're planning a private event at the club, you can often take advantage of the club's catering services, allowing you to create a custom menu for your special occasion.
Member Events: The club may host member-exclusive dining events, including wine tastings, chef's table dinners, and member appreciation nights, providing opportunities to try unique culinary creations.
Woodland Country Club Dress Code and Guest Policy
The dress code and guest policy at Woodland Country Club, like at many private country clubs, are designed to maintain a certain level of decorum, ensure the comfort of all members, and preserve the club's atmosphere.
Here's a general overview of what you might expect regarding the dress code and guest policy at a country club like Woodland:
Dress Code:
Golf Attire: While on the golf course, proper golf attire is typically required. This often includes collared shirts for men and appropriate golf shirts for women. Golf shorts or slacks are typically expected, and denim and cargo shorts are usually discouraged. Golf shoes with soft spikes or spikeless shoes may be required.
Casual Dining: In casual dining areas, members and guests are often expected to dress neatly and in a manner appropriate for a family-friendly environment. This may include collared shirts, clean and presentable shorts or slacks, and appropriate footwear. Denim is often allowed but should be neat and free from excessive distress.
Formal Dining: For formal dining areas, a more upscale dress code is usually enforced. This may require men to wear collared dress shirts, slacks, and closed-toe shoes, while women may be expected to wear dresses, skirts, or dress slacks. Jackets and ties may be required for men on specific occasions.
Swimwear: Proper swim attire is typically expected at the pool, including appropriate swimwear and cover-ups. Pool attire is generally not permitted in dining areas.
Fitness Facilities: In fitness areas, appropriate workout attire and athletic shoes are usually required. The club may have specific guidelines for fitness apparel.
Guest Policy:
Guest Privileges: Country clubs like Woodland often extend guest privileges to members, allowing them to invite guests to enjoy club amenities. However, the club may limit the number of times a guest can visit or require that guests be accompanied by a member.
Check-In: Guests are usually required to sign in at the club's front desk or registration area upon arrival. This helps the club keep track of guests and ensures that they are abiding by the club's policies.
Guest Fees: Some clubs may charge guest fees for certain amenities or events. These fees can vary depending on the type of guest and the amenities they wish to access.
Host Responsibility: Members are typically responsible for their guests and are expected to ensure that their guests adhere to the club's rules and policies.
Woodland Country Club in Carmel, Indiana, stands as a distinguished destination that combines the timeless traditions of a country club with modern amenities and a welcoming sense of community. With its beautifully landscaped golf course, diverse recreational offerings, exquisite dining experiences, and a calendar filled with social events, Woodland Country Club provides its members with a place to relax, celebrate, and connect with friends and family.
As one of Carmel's premier establishments, Woodland Country Club continues to be a cherished institution, offering a haven of elegance, recreation, and camaraderie for its members and guests.
Disclaimer: CountryClubMag.com is an independent resource and is not associated with any of the clubs on this website. Club initiation and membership cost information are estimates only and should not be relied upon for making club membership decisions.