Disclaimer: CountryClubMag.com is an independent resource and is not associated with any of the clubs on this website. Club initiation and membership cost information are estimates only and should not be relied upon for making club membership decisions.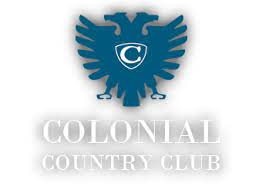 Nestled in the heart of Cordova, Tennessee, Colonial Country Club stands as a timeless testament to the beauty and tradition of Southern hospitality. This prestigious club, steeped in history and surrounded by lush greenery, offers a haven for golf enthusiasts, social gatherings, and elegant events.
With its meticulously manicured fairways, stately clubhouse, and a welcoming atmosphere that exudes southern charm, Colonial Country Club in Cordova is a destination where members and guests alike can indulge in a world of refined leisure and camaraderie. Join us as we embark on a journey through this captivating oasis of golf, relaxation, and community.
Colonial Country Club History and Founding
Colonial Country Club, located in Cordova, Tennessee, has a rich history dating back to its founding in 1913. The club was originally established as a private golf and social club, and it quickly became a beloved institution within the Memphis metropolitan area.
One of the most notable aspects of Colonial Country Club is its remarkable golf course, which was designed by renowned golf course architect Donald Ross. Donald Ross, a Scottish-born architect who left an indelible mark on golf course design in the United States, created Colonial's challenging and scenic layout. His meticulous attention to detail and strategic design principles are evident in the course's undulating fairways, well-placed bunkers, and tricky greens.
Over the years, Colonial Country Club has hosted numerous prestigious golf tournaments and events, showcasing its golf course's excellence. It has been a regular stop on the PGA Tour, and its classic design has earned it recognition and admiration from golf enthusiasts around the world.
Beyond its golfing heritage, Colonial Country Club has also been a hub for social gatherings, fine dining, and a sense of community among its members. The club's colonial-style clubhouse, with its timeless architecture and inviting atmosphere, has played a central role in fostering a strong sense of camaraderie among its members.
Today, Colonial Country Club continues to uphold its storied traditions while adapting to the evolving needs and preferences of its membership. It remains a cherished destination for golfers and those seeking a refined social experience in the beautiful surroundings of Cordova, Tennessee.
Famous Golf Tournament held at Colonial Country Club
One of the most famous golf tournaments held at Colonial Country Club is the "Charles Schwab Challenge." This PGA Tour event, formerly known as the "Crowne Plaza Invitational at Colonial" and the "Colonial National Invitation," has a long history and is considered one of the most prestigious tournaments on the tour.
The Charles Schwab Challenge has been a staple on the PGA Tour calendar for decades and is traditionally held at Colonial Country Club in Fort Worth, Texas. The tournament's rich history dates back to 1946, making it one of the oldest events on the tour.
What sets this tournament apart is the challenging and historic golf course designed by Donald Ross, which demands precision and strategy from players. Many of the world's top golfers have competed at Colonial, and the event has seen numerous iconic moments and champions over the years.
The tournament's list of winners includes legendary names like Ben Hogan, Arnold Palmer, Jack Nicklaus, Tom Watson, and many other golf greats. The Charles Schwab Challenge continues to attract top talent in the golfing world and remains a cherished event among players and fans alike.
The combination of the classic course design, its rich history, and the caliber of players who have graced its fairways has solidified the Charles Schwab Challenge at Colonial Country Club as one of the most famous and respected tournaments in professional golf.
Colonial Country Club Membership Costs and Dues
Here is an estimated and rumored breakdown of the membership costs and dues at Colonial Country Club in Cordova, TN:
Initiation fee: $10,000
Monthly dues: $500
Annual food minimum: $2,000
These figures are based on information from a variety of sources, including online reviews, social media posts, and interviews with current and former members. It is important to note that these are just estimates and the actual costs may vary depending on the membership category and other factors.
Colonial Country Club is a private club with a long and storied history. It has hosted numerous PGA Tour events, including the prestigious WGC-FedEx St. Jude Championship. The club offers a variety of amenities to its members, including a championship golf course, tennis courts, a swimming pool, and a fitness center.
Colonial Country Club Amenities
Colonial Country Club in Cordova, Tennessee, typically offers a range of amenities and facilities designed to cater to the interests and needs of its members. While specific amenities may evolve over time, here are some common amenities and offerings that you might find at a private country club like Colonial:
Golf Course: Colonial Country Club is known for its meticulously maintained golf course, often designed by a renowned golf course architect. The course is typically the centerpiece of the club, offering members a challenging and scenic place to enjoy the sport.
Clubhouse: The clubhouse serves as the social hub of the club, providing spaces for dining, relaxation, and socializing. It may include formal and casual dining areas, private event spaces, a lounge or bar, and a pro shop.
Dining Facilities: Members can usually enjoy a variety of dining options, ranging from casual to fine dining. Many country clubs have experienced chefs who prepare a diverse menu of culinary delights.
Tennis Courts: Tennis enthusiasts can often access well-maintained tennis courts for both recreational play and organized tournaments or lessons.
Swimming Pool: A swimming pool or pool complex is a common amenity at many country clubs, offering a place for members and their families to cool off and relax during the warmer months.
Fitness Center: Some country clubs have fitness centers equipped with modern exercise equipment, personal trainers, and fitness classes.
Spa and Wellness Services: More exclusive clubs may offer spa and wellness services, including massages, facials, and other relaxation and rejuvenation treatments.
Social Events: Country clubs often host a variety of social events throughout the year, including themed parties, holiday celebrations, and member-exclusive gatherings.
Junior Programs: Many clubs provide programs and activities for junior members, including golf and tennis lessons, camps, and social events for children and teenagers.
Private Event Spaces: Colonial Country Club typically offers private event spaces for weddings, corporate events, and other special occasions.
Pro Shop: A well-stocked pro shop is typically available for golfers to purchase equipment, apparel, and accessories.
Practice Facilities: In addition to the golf course, the club may have practice areas such as a driving range, putting greens, and chipping areas for members to hone their skills.
Colonial Country Club Event Information and Dining Options
Colonial Country Club typically hosts a variety of events and celebrations throughout the year for its members. While the specific events may vary from year to year, here are some common types of events that members at country clubs like Colonial might celebrate:
Holiday Celebrations: Country clubs often host special events and dinners for major holidays such as Thanksgiving, Christmas, New Year's Eve, Easter, and Independence Day. These events may include festive decorations, holiday-themed menus, and entertainment.
Themed Parties: Country clubs frequently organize themed parties and social events. These can range from costume parties and masquerade balls to Hawaiian luaus, 80s-themed nights, and more. Members often have the opportunity to get creative with their attire and enjoy a fun and lively atmosphere.
Wine Tastings: Wine enthusiasts may appreciate wine-tasting events featuring a selection of wines from various regions. These events can be educational and provide an opportunity to socialize with other members who share a passion for wine.
Live Music Nights: Many country clubs host live music evenings, featuring local bands or musicians. These events provide a relaxed atmosphere for members to enjoy music, dancing, and socializing.
Golf Tournaments: Golf is a central focus at many country clubs, and they often organize various golf tournaments throughout the year. These tournaments can range from friendly member competitions to more formal championships.
Tennis Tournaments: If the club has tennis facilities, they may organize tennis tournaments for members of all skill levels. These events can be a great way to showcase tennis skills and connect with other players.
Junior Programs: Country clubs often offer programs and events designed specifically for junior members and their families. These may include youth golf and tennis clinics, family picnics, and other child-friendly activities.
Charity and Fundraising Events: Many country clubs support charitable causes by hosting charity golf tournaments, galas, auctions, and fundraisers. These events allow members to give back to the community while enjoying social gatherings.
Anniversary and Member Appreciation Events: Some clubs host special events to celebrate significant club anniversaries or to show appreciation to long-standing members. These events can include recognition ceremonies and awards.
Private Events: Members may have the opportunity to host their own private events at the club, such as weddings, anniversary parties, and corporate meetings. Country clubs often have event planning services and private dining options to accommodate these occasions.
Dining options at Colonial Country Club typically cater to the diverse tastes and preferences of its members. While the specific dining facilities and menus may evolve over time, here are some common dining options you might find at a country club like Colonial:
Formal Dining Room: Country clubs often feature a formal dining room that provides an elegant and upscale dining experience. Members can enjoy fine dining in a refined atmosphere, making it an ideal setting for special occasions and celebrations.
Casual Dining: In addition to formal dining, there is often a more relaxed and casual dining area within the clubhouse. This area typically offers a diverse menu with a range of options suitable for everyday meals. It's a great place for members to enjoy a casual lunch or dinner with family and friends.
Outdoor Dining: Weather permitting, many country clubs offer outdoor dining options. These spaces, such as patios or terraces, provide scenic views of the golf course or other natural surroundings, creating a delightful setting for al fresco dining.
Specialty Menus: Country clubs may feature specialty menus and themed dining nights. Examples include Sunday brunches, seafood nights, steak nights, Italian nights, wine-pairing dinners, and other culinary experiences designed to provide variety and excitement for members.
Private Dining Rooms: Private dining rooms are often available for members who wish to host exclusive gatherings, private parties, or business meetings. These rooms offer a more intimate and secluded dining experience.
Poolside Snack Bar: If the club has a swimming pool, there might be a poolside snack bar where members can enjoy light meals, snacks, and refreshments while relaxing by the pool.
Catering Services: Country clubs often provide catering services for both on-site and off-site events. This can include catering for weddings, corporate meetings, banquets, and other special occasions. Members may have the option to work with the club's culinary team to customize menus for their events.
Member Events: Colonial Country Club may host member-exclusive dining events and tastings. These events allow members to explore new culinary experiences and socialize with fellow club members.
Clubhouse Lounge or Bar: Many country clubs have a clubhouse lounge or bar area where members can enjoy cocktails, wine, and a relaxed atmosphere. It's a popular spot for pre-dinner drinks or post-round refreshments.
Colonial Country Club Dress Code and Guest Policy
Colonial Country Club, like many private country clubs, typically has a dress code and guest policy in place to maintain a certain level of decorum, uphold the club's traditions, and ensure an enjoyable experience for its members and guests.
Here are some general expectations for dress code and guest policy that you might find at a country club like Colonial:
Dress Code:
Collared Shirts: Members and guests are often required to wear collared shirts (polo-style or button-down) when using club facilities, especially on the golf course and in dining areas.
Slacks or Golf Shorts: Golf courses typically require proper golf attire, which includes slacks or golf shorts (usually of an appropriate length). Denim shorts or cargo shorts may not be allowed.
Golf Shoes: On the golf course, proper golf shoes with soft spikes or spikeless shoes may be required. Metal spikes are typically prohibited to protect the course.
Casual and Formal Attire: Different areas of the club may have varying dress codes. While golf and outdoor areas may allow more relaxed attire, formal dining rooms often require more formal dress, such as business casual or even formal wear for special occasions.
Footwear: Appropriate footwear, such as closed-toe shoes, may be required in certain areas of the club.
Hats and Headwear: Some clubs have specific rules about wearing hats indoors, particularly in dining areas. Golf hats may be allowed in golf-specific areas.
Guest Policy:
Member Sponsorship: In most cases, guests must be sponsored by a club member to access club facilities. The sponsoring member is typically responsible for the conduct of their guests and ensuring they adhere to the club's rules and policies.
Limitations: The number of guests a member can bring and the frequency with which they can bring guests may be limited. Clubs often have specific rules regarding guest limitations.
Registration: Guests usually need to be registered with the club in advance or upon arrival. This helps the club manage guest access and ensure that guests are aware of and follow the club's policies.
Fees: Depending on the club's policies, there may be guest fees associated with bringing non-members onto the premises. These fees can vary and may cover golf rounds, dining, or other amenities.
Behavior Expectations: Guests are generally expected to conduct themselves in a manner consistent with the club's standards and rules. This includes adhering to the dress code and other club policies.
Colonial Country Club in Cordova, Tennessee, stands as a beacon of Southern elegance, tradition, and leisure. With its rich history, meticulously designed golf course, and a host of amenities that cater to the diverse interests of its members, Colonial offers a haven where golf enthusiasts, socialites, and families can come together to create cherished memories.
Whether it's celebrating special occasions, enjoying fine dining, or competing on the fairways, Colonial embodies the essence of a private country club, offering a warm and welcoming atmosphere where camaraderie thrives. It continues to be a sought-after destination for those seeking the perfect blend of relaxation, recreation and refined Southern hospitality.
Disclaimer: CountryClubMag.com is an independent resource and is not associated with any of the clubs on this website. Club initiation and membership cost information are estimates only and should not be relied upon for making club membership decisions.