Disclaimer: CountryClubMag.com is an independent resource and is not associated with any of the clubs on this website. Club initiation and membership cost information are estimates only and should not be relied upon for making club membership decisions.
About the Riviera Country Club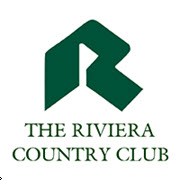 Safely tucked away among the rolling hills of the Pacific Palisades, California, sits the absolutely stunning Riviera Country Club. Founded in 1926 by members of the Los Angeles Athletic Club, this exclusive and world-renowned venue has been consistently ranked among the top 50 golf courses in the world and the top 25 in the U.S.
Home to The Genesis Invitational and set to host golf's most elite in 2028 as the official site of the Olympics golf tournament, the Riviera Country Club has long been a hotbed for professional tournaments with its most storied championships being the 1948 U.S. Open, the 1983 and 1995 PGA Championships, the 1998 U.S. Senior Open, and the 2017 U.S. Amateur.
With a proud motto of "Only the best is good enough," this legendary club is sure to present a most amazing golfing experience to its lucky members. Often referred to as "Hogan's Alley" due to exceptional golfer Ben Hogan winning the L.A. Open several times on-site, the Riviera Country Club stands out as one of America's great landmarks for championship sportsmanship and friendly camaraderie.
Riviera Country Club Membership Costs
One thing the Riviera Country Club is known for is its exclusive membership and its long history of association with Hollywood bigwigs. Although the fees are kept unknown to the general public, reports suggest that annual Riviera Club membership fees range anywhere from $25,000 to $40,000 a year on top of an undisclosed initiation fee.
Notable names that have graced the club over the years include Humphrey Bogart, Walt Disney, and Dean Martin—just to name a few! The membership offers several different packages depending on what members are looking for. These packages include the following:
Membership at the Riviera Country Club is by invitation only, where you must be sponsored by two current members, in good standing with the club for at least one year, and have known each sponsor for a minimum of three years. There are questionnaires, interviews on the potential member's character and personality, plus letters of recommendation to be approved by the Governors. It's no easy feat, to become a Riviera member!
Club Social (all social privileges, limited golf and tennis privileges)
Tennis
Golf/Tennis
Associate (between 18-35 years old with social, golf, and tennis privileges)
Junior (a child of a member with the same privileges as their parents)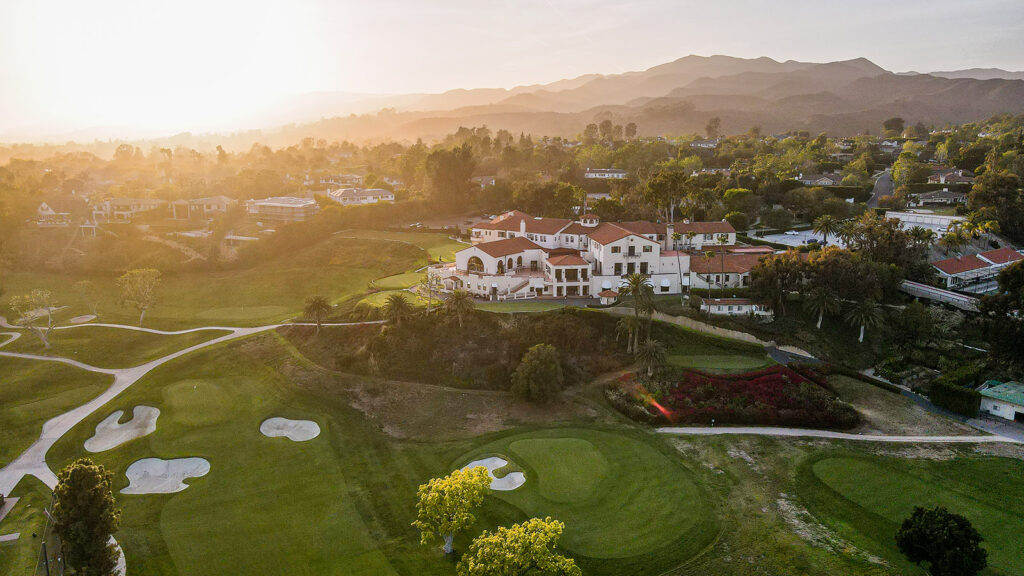 Riviera Country Club Amenities & Events
The Riviera Country Club is renowned for its world-class golf course designed by amateur architect George C. Thomas, who graciously offered his services free of charge—a testament to what would become his crowning achievement and notably one of the finest natural layouts in the game of golf.
Opened in 1927, this par 71 course stands at 7,013 yards with Poa Aunnua greens as well as Kikuyu grass on fairways and rough to create a diverse and challenging terrain. From casual rounds to major tournaments, playing the Riviera provides an experience like no other. With each hole presenting a new challenge every round, players are sure to play each club in their bag while enjoying the picturesque landscape.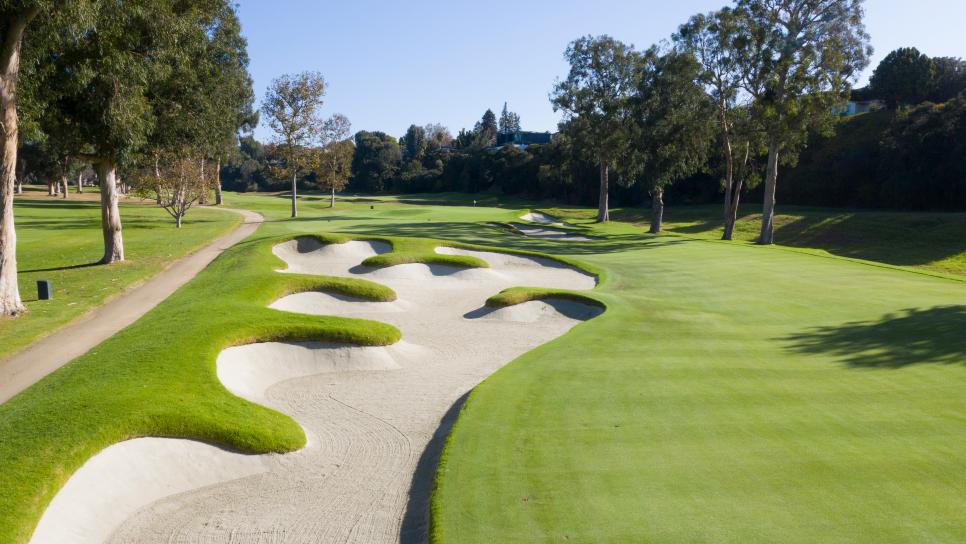 While the front nine offers up an easier introduction to the course, the back nine presents its own set of challenges beginning with a deceptively short 10th hole—tempting all players into taking some risks! Bogey's Tree (named after actor Humphrey Bogart) sits proudly near the 12th tee and is worth a visit for history buffs or curious golfers alike. Last, but certainly not least, the Riviera boasts its world-famous 18th hole which starts with a blind uphill tee shot surrounded by a natural amphitheater accompanied by sweeping views of the clubhouse—a perfect ending for any golf outing!
And it's not just golf—the Riviera Country Club is home to one of the oldest and largest tennis clubs in the Western U.S. Featuring 24 courts in total, this esteemed club has been known to host members who compete on the professional circuit! The club also offers the largest tennis teaching programs of any club in the region with 30 teaching pros and 3 hitters available to members and their families.
For those who can afford the hefty price tag, the Riviera Country Club is the perfect setting for hosting sophisticated and glamorous weddings and events. From the outset, guests are welcomed by the main Clubhouse, which was designed in the classic Spanish Revival style in 1928. The beautiful grounds are available for a gorgeous outdoor wedding ceremony and the Clubhouse has several indoor ballrooms.
The famed Crystal Ballroom boasts exquisite marble flooring, an outdoor terrace, and ornate crystal chandeliers—all providing breathtaking views of the golf course and the nearby Pacific Ocean. For those who prefer a more intimate atmosphere, the Grand Ballroom features high ceilings, dark wood beams, and iron chandeliers—an exquisite touch of class and refinement.
Starting around $40,000 for 50 guests, these elaborate ballrooms can hold up to 500 invitees, but parties must adhere to the Riviera's rules and regulations. For example, all events are to be catered by the venue, all drinks will be through the venue, and all decorations are to be approved by the club's event coordinator. If you can agree to the Riviera's terms and conditions, and pay the price, you can bet you'll be treated to the most elegant, memorable, and breathtaking event!
Riviera Country Club Visitor's Guide
The Riviera Country Club is an exclusive club and all guests must be invited by a member and added to the guest list before arrival. Reciprocal members must ensure that an introductory letter is on file prior to their visit.
In order to keep the distinguished atmosphere of the club, all members and guests must adhere to the dress code—tailored sportswear (shorts, slacks, sweaters, and polo shirts) for non-players, conventional golf attire (shorts and skirts of appropriate length, along with appropriate golf shirts) for players, tucked-in collared shirts for men, and casual dress attire (dresses, skirts, slacks, and pantsuits) for women.
Unacceptable clothing includes hats for gentlemen, open-toe shoes, backless sandals, sweatshirts, t-shirts, denim, halters, midriffs, cut-off shorts, torn clothing, or perspiration-soaked garments. Management reserves the right to ask any member or guest displaying inappropriate clothing to change or leave the clubhouse.
The Riviera Country Club is an exclusive and luxurious club that offers a wide variety of activities for its members. From golfing to tennis to hosting elaborate events, the Riviera has something for all of California's elite. If you're looking for an elegant and refined experience with unparalleled views of the rolling hills of the Palisades and the majestic Pacific Ocean, the Riviera Country Club is definitely worth checking out!
Disclaimer: CountryClubMag.com is an independent resource and is not associated with any of the clubs on this website. Club initiation and membership cost information are estimates only and should not be relied upon for making club membership decisions.