Disclaimer: CountryClubMag.com is an independent resource and is not associated with any of the clubs on this website. Club initiation and membership cost information are estimates only and should not be relied upon for making club membership decisions.
Welcome to the Montecito Club, an exclusive haven nestled in the breathtaking landscapes of Santa Barbara, California. This prestigious club offers an unparalleled experience of luxury, elegance, and leisure, where members are enveloped in a world of refined amenities, stunning vistas, and a sense of community that embodies the essence of coastal living.
From its lush green fairways to its opulent clubhouse, the Montecito Club promises an extraordinary escape for those seeking the pinnacle of Southern California's coastal lifestyle. Join us in exploring the harmonious blend of relaxation and sophistication that defines the Montecito Club in Santa Barbara.
Montecito Club History and Founding
The history of the Montecito Club is deeply rooted in the rich tapestry of Santa Barbara's heritage. Founded in 1894, this esteemed establishment has been a cornerstone of the community, embodying the essence of timeless elegance and refined living.
The idea for the Montecito Club was conceived by a group of visionary individuals who sought to create a haven where like-minded individuals could come together to celebrate life's finest pleasures. United by a shared passion for golf, social camaraderie, and the natural beauty of the region, these founders embarked on a journey to establish a place that would capture the spirit of Montecito.
Nestled in the heart of Santa Barbara's picturesque landscape, the Montecito Club was meticulously designed to blend seamlessly with its surroundings. The club's architecture and amenities reflect a harmonious balance between classic sophistication and contemporary luxury. Its sprawling fairways, meticulously maintained greens, and world-class facilities have attracted golf enthusiasts from far and wide. The architect of the Montecito Club is Bertram Goodhue. He was a prominent American architect who is best known for his work in the Spanish Colonial Revival style.
Over the years, the Montecito Club has evolved into more than just a golfing destination; it has become a vibrant community hub where members forge lasting friendships, partake in engaging social events, and create cherished memories. The club's commitment to excellence, personalized service, and dedication to preserving the region's natural beauty has solidified its reputation as a cherished institution in Santa Barbara.
As the Montecito Club continues to thrive and grow, its legacy remains firmly rooted in its founding principles of unity, elegance, and a shared appreciation for the finer things in life. Whether teeing off on the emerald fairways or savoring a gourmet meal with panoramic views, every moment at the Montecito Club is a testament to its enduring commitment to creating an exceptional experience for all who have the privilege of being a part of this remarkable journey.
Famous Golf Tournament held at Montecito Club
The Montecito Club has had the honor of hosting several prestigious golf tournaments that have garnered attention from players and enthusiasts alike. One of the most notable tournaments held at the Montecito Club is the "Montecito Classic Invitational."
The Montecito Classic Invitational is an annual event that brings together top golfers from around the world to compete on the club's immaculate fairways and greens. Renowned for its challenging course layout and stunning coastal backdrop, the Montecito Classic Invitational has become a coveted event on the golfing calendar.
Players and spectators alike are drawn to the tournament's unique blend of competitive play and luxurious hospitality. The event not only showcases exceptional golfing skills but also provides a platform for camaraderie and networking among participants.
With its history of hosting the Montecito Classic Invitational, the Montecito Club has solidified its reputation as a premier golfing destination that offers an unparalleled experience for both professionals and amateurs. The tournament's legacy continues to contribute to the club's standing as a symbol of excellence in the world of golf and a cherished part of the Santa Barbara community.
Montecito Club Membership Costs and Dues
The Montecito Club is one of the most exclusive private clubs in the world, and as such, its membership costs are very high. The initiation fee for a full membership is rumored to be around $275,000, and annual dues are estimated to be around $25,000. However, these costs are just estimates, and the actual costs may vary depending on the type of membership and the amenities that are included.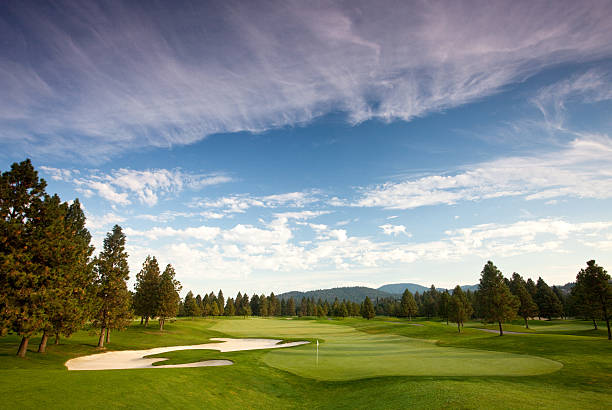 Here is a breakdown of the estimated membership costs and dues for the Montecito Club:
Initiation fee: $275,000
Annual dues: $25,000
Junior membership: $100,000 initiation fee, $15,000 annual dues
Social membership: $50,000 initiation fee, $10,000 annual dues
These costs are just estimates, and the actual costs may vary depending on the type of membership and the amenities that are included. It is also important to note that the Montecito Club is a very exclusive club, and membership is by invitation only.
Montecito Club Amenities
While specific amenities are offered by the Montecito Club in Santa Barbara, CA.
Here are some amenities that are commonly found in prestigious golf and country clubs, which may also apply to the Montecito Club:
Championship Golf Course: The centerpiece of the club is often its meticulously designed and well-maintained golf course, featuring challenging holes, lush fairways, and stunning landscapes.

Clubhouse: A grand clubhouse serves as the social hub of the club, offering fine dining options, lounges, and meeting spaces for members to gather and relax.

Practice Facilities: These include putting greens, driving ranges, and practice bunkers, providing members with ample opportunities to hone their golfing skills.

Tennis Courts: Many country clubs have tennis facilities with multiple courts for both casual and competitive play.

Swimming Pool: A luxurious pool area for relaxation, exercise, and socializing, often with poolside dining options.

Fitness Center: Modern fitness facilities equipped with state-of-the-art equipment and possibly personal training services.

Spa Services: Some clubs offer spa treatments and wellness programs for members seeking relaxation and rejuvenation.

Social Events: Regularly scheduled events such as themed parties, galas, wine tastings, and holiday celebrations promote a sense of community and camaraderie.

Children's Activities: Clubs often provide activities and programs for children, such as junior golf lessons, summer camps, and family-friendly events.

Private Event Spaces: Facilities for hosting private events, weddings, and corporate gatherings.

Gourmet Dining: Fine dining options, casual eateries, and possibly private dining rooms for special occasions.

Pro Shop: A well-stocked shop offering golf equipment, apparel, and accessories.

Concierge Services: Personalized services to enhance the overall club experience, such as arranging tee times, event planning, and more.
Montecito Club Event Information and Dining Options
Here's an overview of the types of events and dining options that you might find at a prestigious club like the Montecito Club:
Events:
Golf Tournaments: The club may host various golf tournaments, including member-only events, charity fundraisers, and invitational tournaments.

Social Gatherings: Regular social events like cocktail parties, themed dinners, holiday celebrations, and galas provide opportunities for members to connect and socialize.

Lectures and Workshops: Educational and cultural events such as guest speaker lectures, wine tastings, cooking classes, and art exhibitions may be organized.

Family Events: Family-friendly activities like movie nights, kids' parties, and holiday-themed events can create a sense of community among members and their families.

Concerts and Entertainment: Live music performances, comedy nights, and entertainment evenings could be part of the club's event calendar.

Fitness and Wellness Activities: Wellness workshops, yoga classes, fitness challenges, and outdoor activities may be organized to promote a healthy lifestyle.
Dining Options:
Fine Dining: Upscale dining experiences featuring gourmet cuisine, an extensive wine list, and an elegant ambiance are often available in the main dining room.

Casual Dining: Informal and family-friendly dining options may include a grill, café, or bistro-style eatery, serving a variety of dishes.

Outdoor Dining: Al fresco dining areas overlooking the golf course, pool, or scenic views provide a refreshing atmosphere for members to enjoy meals.

Private Dining: Exclusive private dining rooms for special occasions, business meetings, and intimate gatherings may be available for reservation.

Seasonal Menus: The club might offer seasonal menus that showcase fresh, locally sourced ingredients and highlight culinary creativity.

Themed Nights: Special dining events featuring themed cuisine, such as wine pairing dinners, seafood nights, and international cuisine showcases.
Montecito Club Dress Code and Guest Policy
Here's a general overview of what you might expect regarding dress code and guest policy at a prestigious club like the Montecito Club:
Dress Code: Private clubs often enforce a dress code to ensure a neat and respectful appearance among members and guests. While the specific requirements can differ, here are some typical elements of a dress code:
Golf Attire: Proper golf attire is usually required on the golf course and practice areas. This might include collared shirts, golf pants or shorts, golf shoes, and appropriate socks.

Clubhouse Attire: The clubhouse may have specific guidelines for different areas. Formal dining rooms might require more formal attire such as collared shirts, dress slacks, and closed-toe shoes. Casual dining areas may allow more relaxed attire.

Swimwear: Pool areas may have specific rules for swimwear and cover-ups. Proper attire is typically required when dining or socializing around the pool.

Footwear: Clean and appropriate footwear is often required throughout the club premises. Golf shoes, dress shoes, and appropriate sandals are usually allowed, while flip-flops and beach-style footwear might be restricted.

Hats and Caps: Some clubs have rules about when hats and caps can be worn indoors.
It's important to note that the dress code can vary based on the specific event, location within the club, and the time of day.
Guest Policy: Private clubs typically have a guest policy that outlines who is allowed to accompany a member and under what circumstances. Here are some common aspects of a guest policy:
Accompanied Guests: Guests are usually required to be accompanied by a member of the club. Members may need to make arrangements in advance to bring guests onto the club premises.

Limitations: There might be restrictions on how often a member can bring the same guest or how many guests can be brought at once.

Registration: Guests may need to register at the club's reception or guest check-in upon arrival.

Dress Code for Guests: Guests are often expected to adhere to the same dress code as members.

Charges: Some clubs may charge members for bringing guests, and these charges could cover amenities like golf rounds, dining, and other facilities.
Keep in mind that these policies can change over time, and it's always best to refer to the most current information provided by the Montecito Club itself for the specific dress code and guest policy details that apply at the time of your visit.
Montecito Club stands as a beacon of refined luxury and camaraderie in the heart of Santa Barbara, California. Its storied history, characterized by visionary founders and a commitment to excellence, has resulted in a haven where members can revel in the art of elegant living and exceptional golf. With its championship course, world-class amenities, and a rich calendar of events, the club nurtures a sense of community that transcends the ordinary.
Whether indulging in fine dining, perfecting your swing, or forging lasting connections, the Montecito Club embodies the essence of Southern California's coastal lifestyle, offering a haven where sophistication meets leisure in perfect harmony. A visit to the Montecito Club is an invitation to experience a legacy of prestige, a celebration of life's finest moments, and a retreat that captures the essence of coastal allure.
Disclaimer: CountryClubMag.com is an independent resource and is not associated with any of the clubs on this website. Club initiation and membership cost information are estimates only and should not be relied upon for making club membership decisions.