Disclaimer: CountryClubMag.com is an independent resource and is not associated with any of the clubs on this website. Club initiation and membership cost information are estimates only and should not be relied upon for making club membership decisions.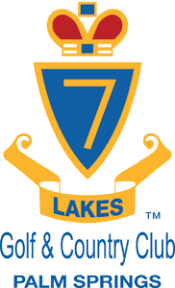 Nestled amidst the breathtaking desert landscape of Palm Springs, California, Seven Lakes Country Club stands as an oasis of elegance and tranquility. This exclusive community is renowned for its lush green fairways, stunning mountain vistas, and vibrant social scene that epitomizes the essence of desert living.
Whether you're seeking a serene retirement haven, a golf enthusiast's dream, or simply a slice of paradise to escape the hustle and bustle of everyday life, Seven Lakes Country Club beckons you to experience the pinnacle of desert luxury and leisure. Join us as we explore the treasures of this coveted desert gem, where timeless beauty and modern comfort harmoniously coexist.
Seven Lakes Country Club History and Founding
Seven Lakes Country Club has a rich history dating back to its founding in the early 1960s. The visionary behind this prestigious community was Richard B. Smith, a prominent developer with a passion for creating exceptional living spaces in the Palm Springs area. Smith, known for his commitment to blending modern design with the natural desert environment, enlisted the renowned architect, Richard A. Harrison, to bring his vision to life.
Richard A. Harrison, celebrated for his innovative Mid-Century Modern architectural style, played a pivotal role in shaping the distinctive character of Seven Lakes Country Club. His designs seamlessly integrated the sleek lines and minimalist aesthetics that defined the era, all while embracing the stunning desert backdrop. Harrison's architectural prowess is evident in the club's iconic mid-century buildings, the centerpiece being the clubhouse with its striking angular design and signature use of concrete and glass.
Since its inception, Seven Lakes Country Club has been a beacon of sophistication and leisure in Palm Springs. It has attracted a diverse community of residents who appreciate its architectural elegance, world-class golf course, and the vibrant social atmosphere it offers. Over the decades, the club has continued to evolve while preserving the essence of its mid-century roots, making it a beloved institution in the Coachella Valley. Today, it stands as a testament to the enduring legacy of its founder, Richard B. Smith, and the architectural brilliance of Richard A. Harrison, embodying the epitome of desert living and luxury.
Famous Golf Tournament held at Seven Lakes Country Club
The most famous golf tournament held at Seven Lakes Country Club in Palm Springs, California was the 50th anniversary of former President Dwight D. Eisenhower's only hole-in-one, which took place on the 13th hole of the course on February 6, 1968. The tournament was held in 2018 and raised $50,000 for the Lucy Curci Cancer Center at Eisenhower Medical Center.
Eisenhower was a lifelong golfer and a frequent visitor to Palm Springs. He was known for his love of the game and his competitive spirit. On the day of his hole-in-one, he was playing with a group of friends, including former Vice President Richard Nixon. The shot was made from 104 yards out and landed in the cup.
The 13th hole at Seven Lakes is a par-3 that measures 104 yards from the back tee. It is a challenging hole, with a large bunker in front of the green and a water hazard to the right. Eisenhower's hole-in-one is one of the most famous in golf history. It is a testament to his skill and his love of the game.
In addition to the 50th-anniversary tournament, Seven Lakes Country Club has also hosted other notable golf events, such as the Bob Hope Chrysler Classic and the Bing Crosby National Pro-Am. The course is a popular destination for golfers of all levels and is known for its challenging layout and stunning views of the surrounding mountains.
Seven Lakes Country Club Membership Costs and Dues
The estimated initiation fee for a full golf membership at Seven Lakes Country Club is $250,000. The monthly dues are rumored to be $3,000. However, the club does not publicly disclose its membership costs, so these numbers are just estimates.
The actual cost of membership will vary depending on the type of membership you choose and the number of people in your household. For example, a social membership (which does not include golf privileges) is typically less expensive than a full golf membership.
Here is a breakdown of the estimated membership costs at Seven Lakes Country Club:
Initiation fee: $250,000
Monthly dues: $3,000
Golf cart rental: $25 per round
Guest fees: $30 – $40 per round
In addition to the membership fees, you will also need to pay for food and drinks at the club's restaurant and bar. The cost of these items will vary depending on what you order.
Here are some additional things to keep in mind about the membership costs at Seven Lakes Country Club:
The initiation fee is non-refundable.
The monthly dues are subject to change.
There is a waiting list for membership.
The club may require you to purchase a certain amount of food and beverage credits each year.
Seven Lakes Country Club Amenities
Seven Lakes Country Club in Palm Springs, California, offers a range of amenities and facilities designed to provide its members with a comprehensive and luxurious country club experience.
Here are some of the typical amenities you might find at Seven Lakes Country Club:
Golf Course: Seven Lakes boasts an 18-hole golf course, often designed by a renowned golf course architect. It's a central feature of the club, offering a challenging and picturesque golfing experience.

Clubhouse: The clubhouse is often the heart of the community, featuring dining options, a bar, and social spaces where members can gather for meals, events, and socializing.

Swimming Pools: Many country clubs offer swimming pools, which can range from lap pools to leisure pools, providing a refreshing way to cool off and relax.

Tennis Courts: Tennis enthusiasts can enjoy well-maintained tennis courts for friendly matches or organized tournaments.

Fitness Center: A fully equipped fitness center allows members to maintain an active lifestyle and stay in shape.

Spa and Wellness Facilities: Some country clubs provide spa services, including massages, facials, and other wellness treatments.

Dining Options: In addition to the clubhouse, there may be other dining options within the club, such as casual and formal dining areas, cafes, and bars.

Social and Event Spaces: Country clubs often host a variety of social events, from themed parties to live entertainment, creating opportunities for members to connect and build a sense of community.

Gated Community: Seven Lakes Country Club is often a gated community, providing a secure and private environment for its residents and members.

Golf Pro Shop: A pro shop offers golfers a place to purchase equipment, apparel, and accessories, and may also offer golf lessons and club fitting services.

Card Rooms and Lounges: Quiet spaces for members to relax, read, or engage in card games and other activities.

Walking Trails: For those who enjoy the outdoors, walking and jogging trails within the community can provide a scenic way to stay active.
Seven Lakes Country Club Event Information and Dining Options
Country clubs often host a variety of events and offer dining options to cater to their members and guests.
Here's a general overview of what you might expect in terms of events and dining:
Events:
Social Events: Seven Lakes Country Club typically hosts a range of social events throughout the year. These may include holiday parties, themed dinners, live entertainment, and more. Members often have access to a social calendar with details of upcoming events.

Golf Tournaments: Golf tournaments and events are common at country clubs. Members can participate in club championships, charity tournaments, and other golf-related activities.

Tennis Tournaments: If there are tennis courts at the club, they may host tennis tournaments, clinics, and social tennis events for members.

Special Occasions: The club may offer event space for special occasions such as weddings, birthdays, anniversaries, and corporate events. Members may receive preferential rates or access to event planning services.
Dining Options:
Clubhouse Dining: Most country clubs have a clubhouse with dining facilities. Members can enjoy casual and formal dining experiences with menus that often feature a range of culinary options.

Café or Snack Bar: Some clubs have a café or snack bar near the golf course or pool area, providing quick bites, sandwiches, and beverages.

Private Dining Rooms: For more intimate gatherings, country clubs may offer private dining rooms or banquet halls that can be reserved for special events.

Bar or Lounge: Many country clubs have a bar or lounge area where members can relax with drinks and appetizers.

Catering Services: Country clubs often provide catering services for on-site and off-site events. Members may have access to catering for their private functions.

Theme Nights: Some clubs host themed dining nights, such as Italian night, seafood night, or steak night, offering unique culinary experiences.

Sunday Brunch: A Sunday brunch tradition is common at many country clubs, featuring an expansive buffet with breakfast and lunch options.
Seven Lakes Country Club Dress Code and Guest Policy
Country clubs like Seven Lakes Country Club often have specific dress codes and guest policies in place to maintain a certain level of decorum and ensure a pleasant experience for members and visitors.
Here is a general overview of what you might expect in terms of dress code and guest policies at a country club like Seven Lakes:
Dress Code:
Golf Attire: Proper golf attire is typically required on the golf course. This usually includes collared shirts for men and women, golf slacks or golf shorts (typically knee-length), and golf shoes with soft spikes. Denim, cargo shorts, and t-shirts are often not allowed on the golf course.

Clubhouse and Dining: The dress code for the clubhouse and dining areas may vary depending on the time of day and the specific dining venue. During the day, smart casual attire is usually acceptable. In the evening, some clubs may have more formal dress codes, requiring collared shirts, dress shoes, and slacks for men, and comparable attire for women.

Swimming Pool: Swimwear is typically allowed only in the pool area. Appropriate cover-ups or casual attire should be worn when dining or moving around other areas of the club.

Tennis and Fitness Facilities: Comfortable athletic wear and appropriate footwear are generally expected in tennis courts and fitness facilities.

Special Events: Some special events or dining occasions may have specific dress code requirements, such as black-tie or cocktail attire. These will be communicated in advance.
Guest Policy:
Accompanied Guests: Most country clubs allow members to bring guests to the club. However, there may be restrictions on the number of times a guest can visit in a month or year. Guests are often required to sign in at the club's front desk or pro shop upon arrival.

Member Responsibility: The sponsoring member is typically responsible for their guest's conduct and adherence to club rules and dress code.

Fees: Some clubs charge guest fees or guest privileges may be included in the membership.

Reciprocal Clubs: Some country clubs have reciprocal arrangements with other clubs, allowing members to visit and use facilities at partner clubs. These arrangements may have specific guest policies.
Seven Lakes Country Club in Palm Springs, California, stands as a timeless oasis of luxury, leisure, and community. With its lush golf course, elegant clubhouse, and a wide range of amenities, it offers an unparalleled experience for its members and residents. Rooted in a rich history of visionary development and architectural brilliance, Seven Lakes embodies the spirit of desert living at its finest.
Whether you're drawn to the challenge of its golf course, the camaraderie of its social events, or the serenity of its tranquil surroundings, this exclusive enclave continues to be a coveted destination for those seeking the epitome of country club living. Seven Lakes Country Club is not just a place to live; it's a destination where dreams of desert paradise come to life.
Disclaimer: CountryClubMag.com is an independent resource and is not associated with any of the clubs on this website. Club initiation and membership cost information are estimates only and should not be relied upon for making club membership decisions.