Disclaimer: CountryClubMag.com is an independent resource and is not associated with any of the clubs on this website. Club initiation and membership cost information are estimates only and should not be relied upon for making club membership decisions.
The NorthShore Country Club is a haven of leisure and recreation nestled in the heart of Portland.
This article invites you to discover the charm and allure of this exceptional establishment, where golfing excellence, community camaraderie, and a range of facilities converge to offer a truly unparalleled experience.
Join us as we delve into the features that make NorthShore Country Club a cherished destination for both enthusiasts and those seeking a retreat from the ordinary.
History
The NorthShore Country Club, situated in Portland, Texas, presents an 18-hole links style golf course crafted by the collaborative efforts of Bruce Devlin and Robert von Hagge.
This renowned par 72 course, reminiscent of numerous coastal courses, has gained its reputation from the captivating sequence of holes on the latter half, adjacent to Corpus Christi Bay.
The surrounding natural elements play a significant role, with wind and ocean mist adding to the challenge.
Complementing the experience, the club offers a stunning clubhouse vantage point that overlooks the golf course, setting the stage for memorable events and intimate dining occasions.
Membership
The NorthShore Country Club presents a range of membership options tailored to cater to the preferences of its valued members.
You can select the option that aligns best with your personal and familial requirements. The available membership options are listed below along with the fees and what they cover:
Platinum Golf Tier
Enrollment Fee: roughly $1,000
Monthly Subscription (estimated costs): Individual Golfer – $299, Family – $399
This tier grants access to the golf course, tennis courts, pools, fitness center, and Clubhouse amenities.
It includes:
Unlimited use of golf carts and range balls
Substantial 25% discount on golf shop merchandise
The privilege of reserving tee times 14 days in advance
Allowance for walking and using pull carts
Locker facilities for men and women
Club charge benefits, and
Secure golf club storage within the Pro Shop.
Gold Golf Tier
Enrollment Fee: roughly $1,000
Monthly Subscription (estimated cost): $205
Enjoy the use of the golf course, tennis courts, pools, fitness center, and Clubhouse facilities.
This tier offers:
A generous 20% discount on golf shop merchandise
The convenience of reserving tee times 10 days ahead
Flexibility for walking and pull carts
Inclusion of range balls, and
Club charge privileges.
Please note that golf cart usage is not covered.
Ruby Golf Tier
Enrollment Fee: roughly $1,000
Monthly Subscription (estimated cost): $135
Access the golf course, tennis courts, pools, fitness center, and Clubhouse amenities. This tier entails a 10% discount on golf shop merchandise and allows tee time reservations up to 7 days beforehand.
A mandatory cart rental fee applies to each round of golf, regardless of walking or using a pull cart. Range balls are included.
Business Tier
Enrollment Fee: roughly $1,500
Monthly Subscription (estimated cost): $725
Designed for companies, this membership offers the benefits of a Gold Golf membership. It covers up to 5 designated users, each with their own sub account.
This allows them to enjoy the perks individually, including range balls, and allows for pull cart usage without additional fees. Monthly dues are billed to each designee separately.
Silver Tier
Enrollment Fee: roughly $500
Monthly Subscription (estimated cost): $80
This tier provides access to the tennis courts, pools, fitness center, and Clubhouse facilities. Silver members can also access the golf course by paying green and cart fees, with a generous 50% discount on green fees.
Club charge privileges are included, but range balls are not.
All members must meet a monthly food and beverage minimum of an estimated amount of $25. Spending on various dining facilities within the Club, such as the bar and grill, snack bar, starter house, to-go orders, and banquets, count toward fulfilling this requirement.
In case the monthly spending falls below a certain amount, roughly $25, the membership account will be billed for the difference, up to that amount. (This expenditure does not cover taxes and service charges.)
Additionally, all golf memberships are subject to an estimated monthly amount of $25 of water assessment fee.
Membership in NorthShore Country Club encompasses the individual member and their immediate family, including a spouse and unmarried children under 25 residing at home.
Access to Club facilities is governed by the Club's "By-Laws" and regulations, in accordance with the chosen membership tier.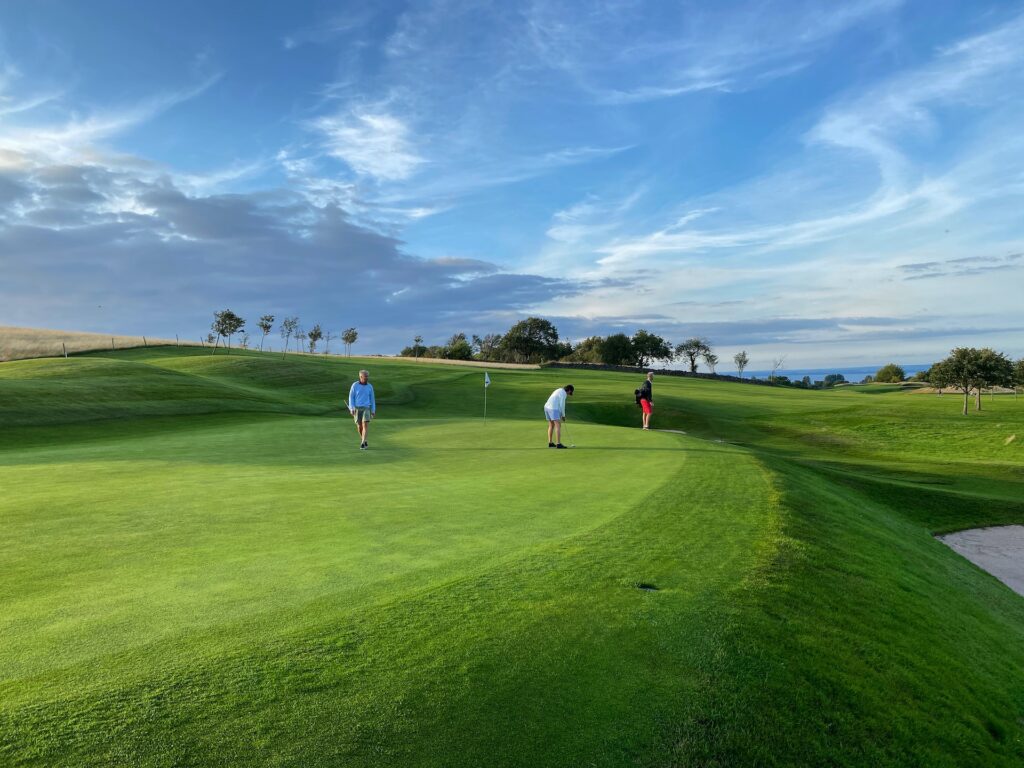 Amenities
Upon becoming a part of the NorthShore Country Club community, you'll have the privilege of relishing a diverse range of facilities and offerings.
Alongside this, you'll have the opportunity to forge lasting connections and professional associations within a cordial atmosphere of companionship.
It's important to note that external food and beverages are not permitted on the premises.
For your convenience, refreshments and snacks can be acquired from the tennis shop, starter house, or the operational snack bar (available during the summer months).
Golf Course
Renowned as the Gulf Coast's prized gem, NorthShore Country Club has gained acclaim for its famed sequence of holes nestled within the back nine (holes 13-16), beautifully set against the backdrop of the bay.
Originally constructed in 1985 through the collaborative efforts of Bruce Devlin and Robert von Hagge, this semi-private course extends its accessibility to the public through reciprocal agreements with various hotels along the Coastal Bend.
Although the course measures a modest 6,805 yards and boasts a limited presence of trees, the prevailing winds, which often reach 20-40 MPH on favorable days, coupled with the layout adorned with bunkers, water obstacles, and uneven side-hill lies, present a formidable challenge.
The fairways showcase the 419 Bermuda grass, while the meticulously maintained Tifdwarf greens, raised and slick, maintain their excellent condition throughout the year.
Familiarity with the course layout significantly impacts one's performance, making it advantageous to either partner with a club member or engage in multiple rounds while in the vicinity.
The design incorporates a series of tee shots with obscured landing areas. The back nine, more demanding in nature, is recognized for its strategic emphasis.
Some liken the iconic sequence on the back nine to the experience of playing on a resort course in Hawaii.
The journey commences with the signature 13th hole, where players tee off spectacularly over a bay inlet, directing their shots towards a vast green situated snugly against the sand and waves.
It's important to factor in both the wind and the ocean mist when addressing your putts.
Continuing along the bay, the 14th and 15th holes unfold. On the 531-yard 14th hole, aim left with your tee shot to evade the cliffs that loom on the right for the second shot.
The 352-yard 15th hole features a dogleg to the right, requiring a carry over an inlet immediately beyond the turn.
The diminutive, elevated green is a challenging target, surrounded by waste areas and a bunker.
A momentary respite can be savored after the 16th hole, a lengthy par 3 that directs shots onto a deep green while the Gulf graces the left side.
You can find fantastic gear, clothing, and accessories at the Golf Pro Shop that can enhance your game.
For practice, the NorthShore Country Club provides a putting green, a chipping green, a practice bunker, and a driving range with 20 hitting stations.
Pool
Immerse yourself in the refreshing waters of NorthShore Country Club's Diving Pool, perfect for diving enthusiasts seeking an invigorating experience.
If you prefer a more focused swim, the NSCC Lap Pool offers the ideal space for swimming laps and improving your strokes.
For those craving some active fun, the Volleyball Pool provides the perfect arena for a spirited game of volleyball.
Even toddlers have their very own pool designed with their safety and enjoyment in mind.
Gym
You can experience the energizing ambiance of the Club's fitness room, complete with modern flooring and an array of updated exercise equipment.
The NorthShore Country Club's well-equipped facility includes a variety of options to suit your fitness preferences.
Among these are the high-quality Prector treadmills, Prector advanced motor trainers, and Prector elliptical trainers, all designed to provide you with an efficient cardio workout.
Additionally, the Club also has the versatile Hoist multi-trainer and the Vectra4600 Multi-Gym, ensuring a comprehensive strength training experience.
Complementing these are the workout benches, essential for various exercises, and the inflight fitness trainers to enhance your training routine.
Dress Code
The NorthShore Country Club doesn't have a fixed dress code per se, but there are a few guidelines to keep in mind before going out to play.
Metal spikes are not permitted on the premises. For an appropriate and comfortable golfing attire, a polo shirt paired with khaki shorts is a suitable choice.
While collared shirts are recommended, they are not mandatory to enjoy your time on the course. The Club's aim is to create a respectful and enjoyable environment for all golf enthusiasts.